You know your development takes forever when other games are released with your name. That was a surprise to see a link to "possessed" game on my page, when steam mixed things up. So, we are no longer "possessed", i suppose.
Why no updates for so long ? Well its hard to show things when there are a lot of them, but everything is only half-done.
Anyway. We moved away from straightforward "red riding hood" thing in the story, but it will flow up more subtile while we progress. At least now we know what setting exactly do we want and how it all will look.
Prepare to witness full derp, in the world literally stitched from fragments of matter, pulled from random times and realities.
We have redone spell casting system, so now it looks like - Push button to cast - > input combination you read in the spell book. Takes time, so you have to be prepared before going to battle.
Stronger spells require harder combinations, so you either learn, or getting smashed while you look in the book.
Yep. Thats a depressed hedgehog. He lost a will to live, wich is not very hard when you are slave to the dark gods and are used as a weapon.
Spells are our primary weapons for left hand - they use common mana pool, and each has some pros and cons, so you will have to choose wisely before the engagement.
For right hand ( wich we can use simultaneously with spells ) we can have different equipment - from melee weapons and shooting guns, to consumables, one-use equipment and artefacts.
From health drinks and plasmaguns to explosive little anime girls you can throw. Because you never know what you can find in this world.
Yep, thats a two-handed heavy shark as a weapon. Because i can.
Also check out how deaths work. For every character i make special death types for different weapons - headshots with exploding heads, splitting in half and dismembering. Because whats a game without good old over the top gore ? Bleh.
Also, why all strong dark overlords always have cool OP weapons ? Thats a wrong concept. Dark evil mind would only want you to suffer, and will prepare for you the slowest death possible. With least effective weapon posible. Like this spoon, for example.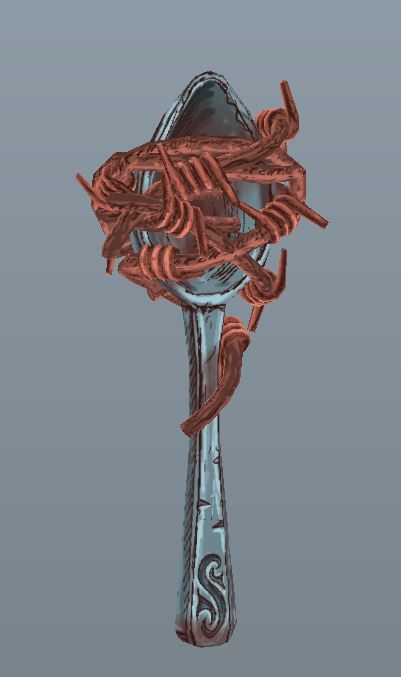 Most of the time i spent last half of the year was making a packs of content, and man this is exhausting.
I only wish i had some 3d modelling slaves, but hey. Thats not how capitalism works, unfortunately.
Check some environment stuff.
And finally, our master and creator. The wolf-god himself. That one guy we will be helping to survive, to get back into his full body and to become the only god in the realm.
I hope i`ll update more frequently in the future. Comment if you care.