Updates like these are always exciting for me, because it shows a clear step in the direction of completion. Often times, you may get to the end of a week and have almost nothing to show for it - but this week isn't one of them. Here is a quick glance at what I've been working on...
Weapon/Ammunition Details and Selection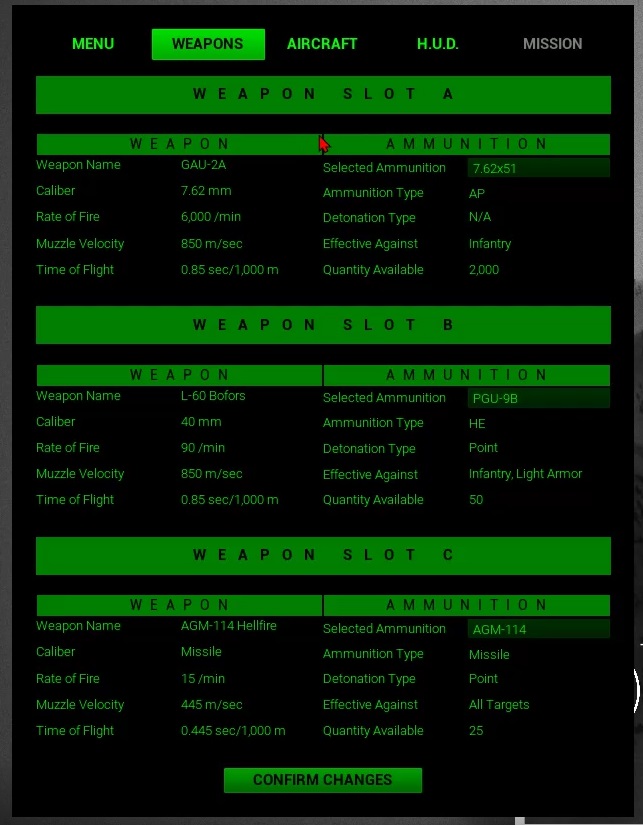 This menu gives important information regarding the weapons and ammunition loaded on your AC-130. It also gives you the option to change your ammunition type on the fly. Having an effective engagement requires much more than accurate round placement. The type of ammunition used will have a tremendous impact on it's effectiveness on a target. Most weapons have multiple ammunition options that each have advantages and disadvantages.
Aircraft Details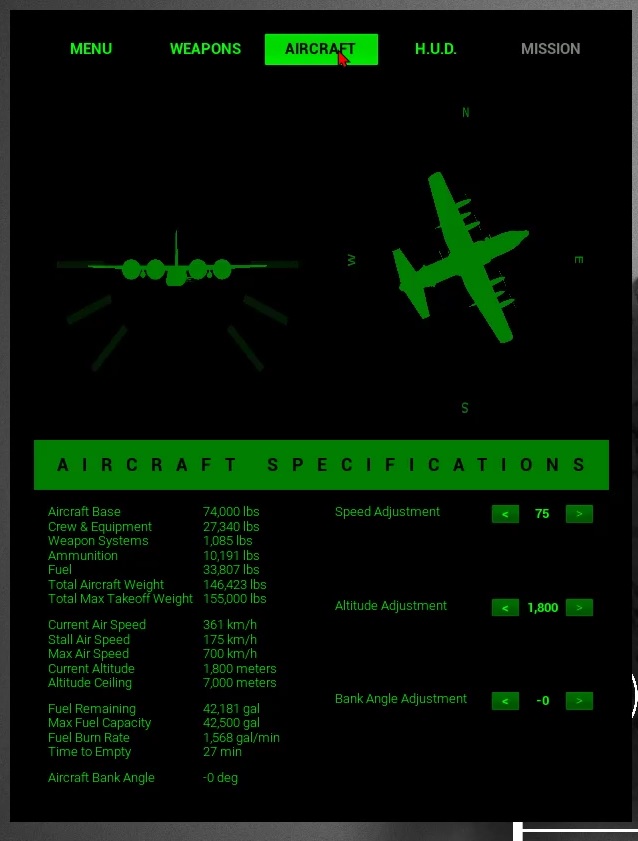 In addition to managing your ammunition, you'll have full control over the aircraft. This menu allows you to make adjustments to the aircraft speed, altitude, and bank angle to mitigate threats and improve your ability to engage your targets.
With this however, your decisions on speed and weight (will get into this more in a future update) will impact the aircraft's consumption of fuel. This ultimately limits your time on target and can be the difference between achieving mission success or failure.
I will mention before anyone calls it out; fuel consumption rates will NOT be represented accurately to real world AC-130s. If this were the case, you'd have the ability to be flying for 4-8 hours straight... which obviously isn't feasible in a game. I've tried to keep the maximum game time to be at an hour, if you are so inclined (or required) to remain in the air for that long. Achieving that kind of air time however, would require careful inventory planning (again, more on this later) and fine tuned adjustments throughout the mission.
I still need to build out the functionality of the Menu, HUD, and Mission tabs - but much of that isn't required until later in development. I'll keep you posted on that.
Here is a quick video, showing the menu system working. As usual, everything is subject to change.. but I'm feeling pretty good about this. Thanks all!