SITREP is basically an ongoing progress report where we publicly display our current tasks, progress and focus areas. Primarily targeted at those of you who find game development and our Open Door Development methodology intriguing.
Team debriefing
Kim (ZPSHicks): "What a great week this has been .. Unity has shown more of its good sides and right now Jess (our Running Man level designer) is here at the office working on Deadlock and you can just feel how his gray ordinary life is starting to make meaning again now that he is spending a bit of his spare-time building cool levels for Deadlock. I've personally spent all week inside the Operations map, constructing the second battle arena and are currently finishing up while writing the next DevBlog about iteration 2 on re-constructing the map one step at the time ... the DevBlog will be online later today!".
Kenneth: "Advanced Sound Propagation Model' - try saying that three times in a row at an Irish pub late at night... This week I've been prototyping two new models for 'sound traversal' from room to room, which are more realistic than what you normally experience in games. These models are the culmination of my previous prototypes. The first propagation model is based on realtime calculated A-star pathfinding, and it worked out quite well, but another idea for a model using pre-calculated paths, and multiple sounds popped up during the week, and I've just started working on that one. More on this work in a devblog soon".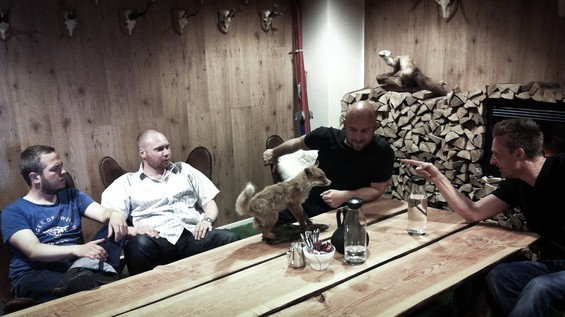 Heks is trying to convince the rest of the team, that a stuffed fox is SO much cooler than a shark with legs
Mikael (heks): "I've begun laying the foundation for what is hopefully going to be a stable and reliable multiplayer framework for the ODD (Open Door Development) of Deadlock. Unfortunately Unity have some pretty fundamental assumptions about how data is communicated to peers, which is not entirely compatible with what we want to do, so we're forced to coding our own core functionality and leave Unity's built-in convenience functions alone. But that's "business as usual" really. :)
I also assisted Kim with some basic scripts which makes it easier for him to control lighting and shadow performance as the player moves around a level.".
Jess (NecroSonic): "Hello marines. Seeing how you have embraced the open development initiative meant that I just had to get back in the game. So even though I am now employed elsewhere I have decided to spend some nights to help make some Deadlock maps.
As a level designer I am all about multiplayer maps and being able to develop the Deadlock maps in collaboration with the truly awesome IM community was an offer that I could not refuse.
At the moment I am creating some experimental prototypes that I plan to showcase for you all in the coming months. I am already discussing ideas with Kim of how you guys may be part of the level design work on Deadlock and we are both quite exited to get this show on the road".
Nicolai (Reese): "Still concluding a whole lot of admin tasks but I can smell the creativity just around the corner as I did my first music blog for... well, a long time (see below). Ive got a lot of really nice feedback and I'm very happy to see this kind of commitment and dedication in regards to music among you all and I'm looking forward to really be kicking of the music composing and following up on the music blogs :)
InterstellarMarines.com Summary

Picture of the Week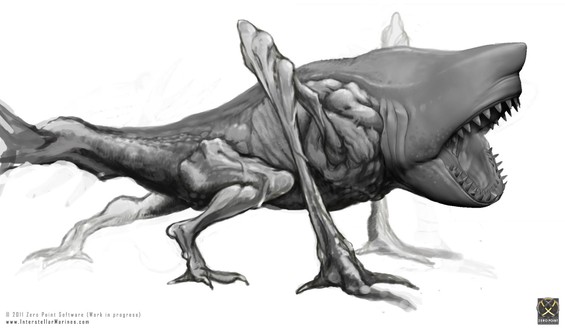 Interviews this week
Mentions this week
Last weeks SITREP here
All the best,
Nicolai (Reese) & the team at Zero Point Software