Once the invasion of Hellar began and a shadow swept across the warp there was silence from the Ultramarine home world of Ultramar until....
+++ Communique to Commander Ultramarines Chapter 2nd Company +++
From your last report the Tyranid situation in the Heller system sounds severe. Astropathic communications have been severed due the presence of the shadow in the warp. I pray this message reaches you. Hold on brother, help is on it's way. I have dispatched several Terminator units from the 1st company to aid you against the damnable xenos.
Courage and Honor
+++ Transmission Ends +++

---
The long wait finally adds Terminators to Exterminatus beta 5.5, visit the Downloads Page to get you patch or windows installer.
Changes in 5.5
Added Terminator class with stormbolter and powerfist as an alternative to the Heavy
New map ex_Ichar_IV, contributed by community member Loxn
Buffed and re-styled the Zopanthrope's primary attack.
Overhaul of the melee system (which may or may not be noticeable.
Acknowledgments
Despite the lack of updates for some time I am pleased to see a recent surge in the number of people playing EX ( Youtube.com ). Thanks for the introduction Thalion :D
Our gratitude goes out to Loxn for all his patient work on Ichar IV, a new map of such high quality is most welcome.
We also owe our thanks to Joven for his ongoing effort scheduling games and growing the EX player community.
After his many modeling contributions to EX, Farseer's efforts have finally been recognized by his promotion to full team member status. If you see him in-game give him your thanks.
The basis of the StormBolter weapon model was originally created by UmmThingy and came to us via a trade with the Renegade 40k mod. The Powerfist world model was created by Bahl for the original Rival Species mod. Thanks guys.
Future Plans
Our plan for the next patch revolves around adding a Genestealer class as an alternative for the tyranid 1st tier. Features for this new class are not yet set in stone, so we would be happy to take suggestions from the community via the EX forum.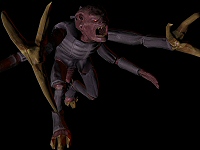 Finally we can always use more help developing EX, specifically in the Sound Effects department. If you are interested in helping please get in touch.