Hey guys, Cooper here with a short update. Not much to tell you; I've been really busy with school, applying to colleges, and such, but I have drawn a new concept for the suit. Constructive Criticism is appreciated. Also, I have started on the tutorial level to teach people how to play the game.
The main difference with this new suit is the helmet and the shoulder pad things. I'm not sure how I feel about the shoulder pads, but I am just trying different things out. Just fyi, I didn't draw the feet or hands in any detail because I'm not currently trying to figure out what they will look like.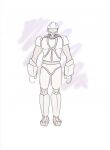 The new tutorial level is what I have been mainly focusing on. I'm just designing the game play of it right now, so there are no walls and not many textures. This level is based in a warehouse that has been set up to teach you how to use your hook and suit. It is not very fancy, but eventually I will add some details to make it look "thrown together." Trying to make maps for this game without them getting too difficult to play is quite the challenge and the tutorial level is especially hard to make because I'm trying to design it so it's almost impossible to fail, and in this game failing is a very easy thing to do.
As always comments are welcome and appreciated,
Thanks for your time,
-Cooper