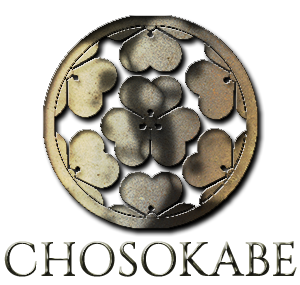 The Chōsokabe clan hail from Tosa Province, Shikoku. Chōsokabe Kanetsugu was the clan leader in the early Sengoku period, but he was killed, forcing his son, Chōsokabe Kunichika, to be raised by the Ichijō clan.
Afterwards, Chōsokabe Kunichika, managed to get revenge and with the help of the Ichijō clan, destroyed their rivals, the Motoyama clan.
Kunichika's son, Chōsokabe Motochika, succeeded the clan and eventually took over the whole of Shikoku by 1583.
However, the reign was short-lived. In 1585, Toyotomi Hideyoshi invaded Shikoku with over 100,000 men, after Chōsokabe initially refused a plea deal (which meant they gave up every province except Tosa). Chōsokabe were defeated through battle, but ultimately were allowed to keep their home province in Tosa anyway. They went on to serve the Toyotomi clan in all of his major battles, including the invasion of Kyūshū (where Motochika's eldest son, Chōsokabe Nobuchika, died), the battle of Odawara, the invasion of Korea and the battle of Sekigahara.
Motochika peacefully died in his mansion, and one his sons, Morichika, took over the clan. Chōsokabe Morichika supported Toyotomi during the Siege of Osaka. He was was executed (along with all his sons) by Tokugawa and the clan was destroyed.
It is said that one of the (many) reasons why Akechi Mitsuhide may have betrayed Oda Nobunaga, is because Oda was becoming more and more wary of the Chōsokabe. Akechi Mitsuhide and Chōsokabe Motochika were very good friends, and often sent letters to each other. Originally, Nobunaga gave Chōsokabe Motochika his blessing by becoming god father to his eldest son, but eventually, Nobunaga was already planning an invasion of Shikoku. Apparantly Chōsokabe Motochika was ready to submit to Nobunaga, but perhaps Akechi Mitsuhide, knowing full well Nobunaga's character, knew that this was a fruitless idea.
Unique Unit:
Daikyu Samurai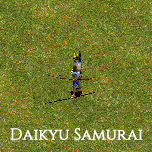 Having everybody armed with weapons and armor, meant no shortage of skilled warriors. Here, The Daikyu Samurai, is no exception to this rule (or maybe we just liked the idea hehe). The Daikyū was a type of longer bow, which took more time to fire, but is more powerful and has higher range. These are also fully armored Samurai, so stand up to melee units, and other ranged units, a lot more than other Yumi units.
Unique Technologies:
Ichiryō gusoku - Yumi and Yari Ashigaru Trained 25% Faster
The Ichiryō gusoku were a group part time farmer/warriors. During times of peace they would tend to the lands, but when needed, were quickly called to battle. They often owned their own weapons and armour but unfortunately, were not very rich and were ill equipped to be fighting against larger forces of more well armoured and equipped Samurai.
This is somewhat reflected in this tech, by allowing their lower ranked and armored Ashigaru to be trained more quickly.
Team Bonus:
Docks work 20% faster
Clan Bonuses:
They are a trash infantry clan with good archers. Quick to train Ashigaru through their Ichiryō gusoku, but with weaker cavalry and siege. They also have a strong navy, having access to all available ships in game, except for the Carrick and Mekurabune. Their strongest point is in their farming, reflected from their strong farming background.
Starting +100 food but - 50 wood
Farmers carry +15 food
Archers and Yabusame fire 20% faster and have +1 range
Yumi Recruit +5hp and +1 melee armour
Screenshots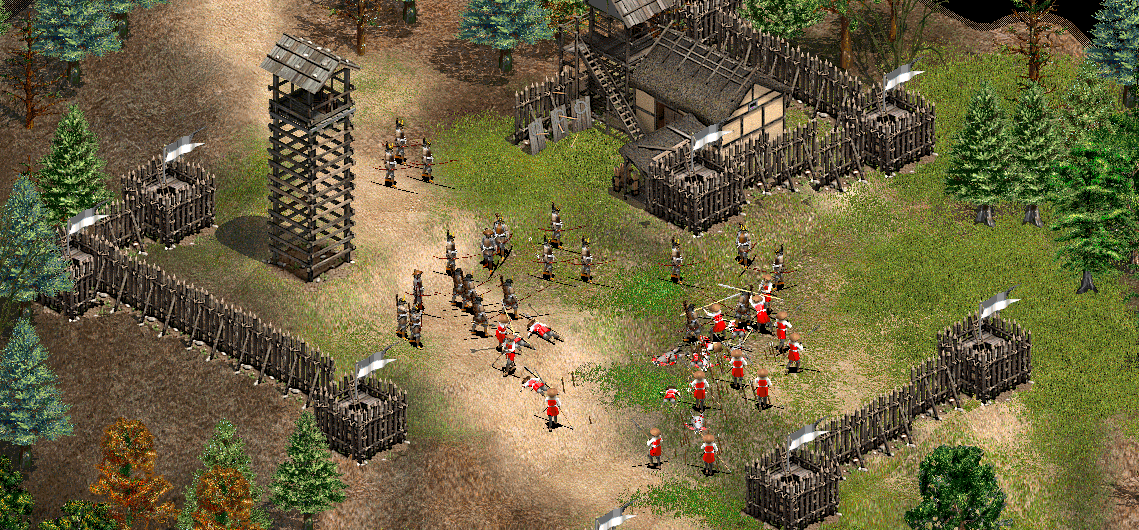 A group of Daikyu Samurai hold off an uphill assault of Yari Ashigaru.
All information here is subject to change. This is an alpha preview and may not represent the final game version, due to game re-balancing, new ideas or otherwise.