You know, it's been a while so let's start things off with a bang ...
Depth now has a fully functional sea life system! As you can see from the video we've already fleshed out the roster with some strange and wonderful fellows including jellyfish and manta rays.

The purpose of sea life in Depth is two fold.
One: They look pretty sweet swimming around and add a lot of life to our maps.
Two: These creatures will actively participate in Depth's gameplay.
Jellyfish are dangerous to both sharks and divers for example. Swimming in to a pack of them is not advised! Other creatures like small schools of pilotfish make an excellent food source for shark players. Sharks who feed on these sea creatures will gain temporary bonuses to their senses. From a diver's perspective a school of fish is a great opportunity to confuse prowling sharks. Fire a spear into the school and they will scatter and set off a cavalcade of sonic pings that will confuse and bewilder nearby sharks allowing you to slip by unnoticed.
From a developer's perspective, these creatures are incredible flexible. A mapper has only to place a "Squad" info somewhere in his map (represented by the three very happy little fish) and select which type of creature he would like to spawn from the drop down menu in the info's properties. Designers can also tailor the behavior of each squad to suit the situation.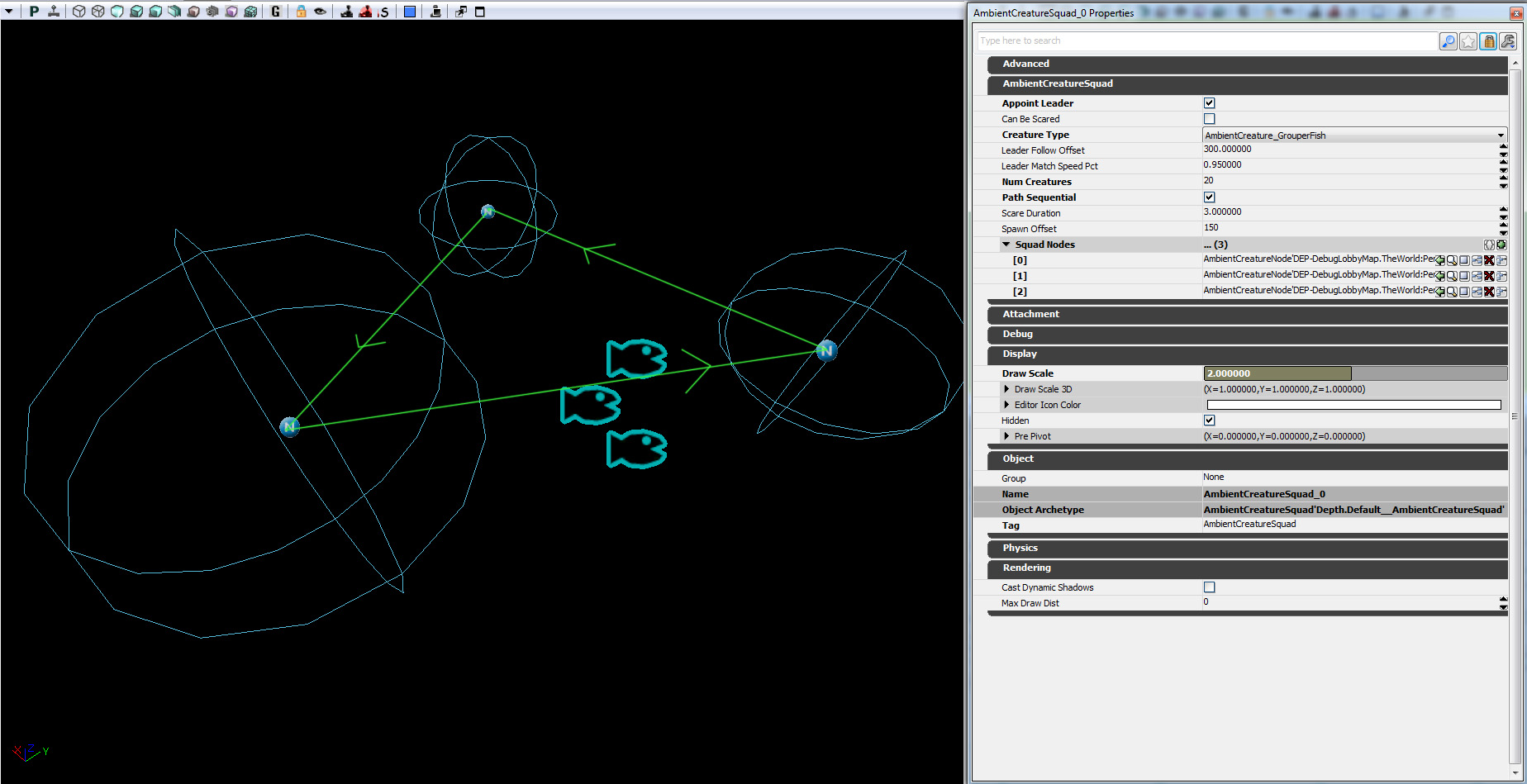 Lobby System
Many multiplayer games have "lobby menus" where you can chat with your friends and hang out until everyone is ready to start the game. In games like Left 4 Dead and Killing Floor for example, these are simply 2D graphical menus with various check boxes and text fields so you can communicate and indicate that you are ready to start.
In Depth, the lobby menu is in the game itself. When you join a server you will pick your team and then be plunked down on a boat if you selected Diver, or dumped into a deep sea grotto if you chose shark. When the teams are balanced the divers can enter the dive cage on the back end of the boat to indicate that they are ready and the cage will drop. When the cage touches down at the bottom and opens, the hunt is on. So what are sharks doing during all of this, you might wonder. Well, their grottos are stocked full of juicy fish and other delicious sea creatures, so while the divers are hanging out waiting for the last player to finish making his sandwich, the sharks will be honing their hunting skills and boosting up their senses for the coming hunt.
In respect of the fact that some players just like to make life difficult for others and might not get in the cage at all, we have coded a timeout system into the lobby which teleports errant divers into the cage if the majority of the team is already in and waiting. Furthermore, if the entire team of divers gets cold feet, the timeout will begin as well, ensuring that the sharks won't have to wait long for fresh meat :).
That's it for now! Be sure to join our forums and speak your mind about our latest media! Forums.depthgame.com we've recently started posting additional media on the forums that is only visible to registered members, so now would be a great time to join our little community :).
As always, watch where you swim.
Love,
The Depth team.