Human age of industry caused a steady depletion of the ozone layer, that could not be stopped. Multiple holes in ozone opened up around the world, exposing Earth to the direct solar radiation. This affected plant growth and produced radicals in seawater that killed most marine organisms, and wildlife. Scorching the face of the Earth, turning it into a barren wasteland.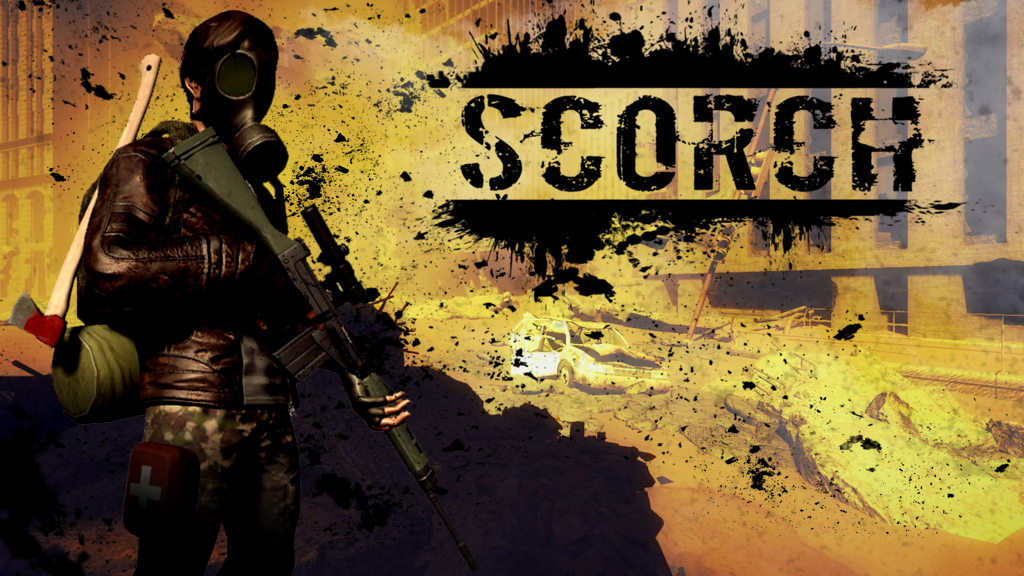 Scorch is a fast paced action shoot em up platformer, set in a post-apocalyptic modern world. A Story Driven gameplay will put players in control of the three main characters and unravel their personal stories through a series of campaigns, each leading a character through the scorched ruins of our world. Players are given different choices that will steer the story and effect the outcome of a campaign for each character.
An immersive visually stunning world of Scorch will challenge your survival instincts, hostile environment will put your wits and reflexes to the test, as you will be facing different enemies, fighting, jumping and climbing your way through every level filled with astonishing detail, to submerge players and deliver the most out of the gameplay experience.

A mix of features that truly make the gameplay a unique and immersive experience!
◾ An immersive beautiful scorched post-apocalyptic environment, that will sharpen your survival instincts and push your senses to the limit, as you will learn to use the environment to overcome obstacles and gain an upper hand
◾ Plan your battles, use the environment to your advantage as you fight for your life against multiple different types of enemies. Duck behind cover and shoot a gas tank to cause an explosion that will break your enemy lines and turn the odds to your favor
◾ Enhanced with stunning 3D highly detailed environments mixed with an old school 2D sidescroller, takes this Platformer to a whole new experience level of the gameplay
◾ Three story driven campaigns that will take you through the personal stories of unique characters, as you will venture through the different environments of the barren wastelands, ruined cities, withering forests, and frozen plains and mountains of the decaying world.
◾ Adrenaline pumping gunfights, hidden secrets, and clever puzzles will keep you on your toes as you progress down the storyline. Different types of weapons to choose from, grenades to blow your enemies up and melee weapons to take them down in close combat.
◾ Lots of extra objective based game modes such as: Survival Skirmish, Last Man Standing, Scavenging Run and more..
◾ Steam community perks: Trading Cards, Achievements, Steam Cloud.

One of the most important things for us here at CM Softworks Inc. is also something that we are proud of, and that is the concept and the approach that we have adopted when developing games. We strive to deliver the maximum gameplay experience by involving you, the community in the development process from the very beginning to the last line of code that is written. We strongly believe that by doing so, we can best ourselves and the games that we create, while listening to your feedback, suggestions and ideas!
We are here today to present this concept to the community and learn what you would like to see in the game. Which aspects of the gameplay you feel are the best, and how can we adopt and merge them into our game. There are many great titles out there that fall under this gameplay category, and we would love to hear you name a few that you enjoyed playing, and which gameplay elements you enjoyed the most.
We would also like you to get involved in the development of the world of Scorch, it's characters and stories. Pitch your ideas to us, tell us how you think we can improve the gameplay to make it more interesting and immersive for you. We want you to influence the development, steer and shape the world of Scorch together, and help us bring you the best experience possible!
We have launched Scorch full Greenlight Campaign this week where we will be sharing latest development updates, talk about new gameplay elements, share new gameplay videos, as well as opening a Steam Group where we plan to collaborate with the community and engage you in the development of the game.
Please leave your thoughts and comments on our Steam Greenlight campaign page and we will be closely monitoring the activity to answer all of your questions, address your concerns, and gather your first impressions and feedback.
Steam Greenlight page: Steamcommunity.com
We look forward to hearing back from you, and hope you will jump onboard and join us in the task ahead!
Sincerely,
CM Softworks. team.