Winter is coming. For real in Sweden, and while it's somewhat depressing that light is slowly leaving this desolate place on earth, the bright side of things is that we'll have even more time to spend in front of our screens, pushing it even harder for the future launch of Sanctum 2!
Let's now talk about Sanctum. It was quite some time since we saw any action on the update or DLC front for Sanctum, so we figured that it was about time to make a change to that. After a lot of hard work (we're doing Sanctum 2 at 100% simultaneously) we're proud to present the "Still Alive" update, which bring you a completely new weapon, the fierce ETK Tesla Prototype and two new towers. The Drone and Accelerator.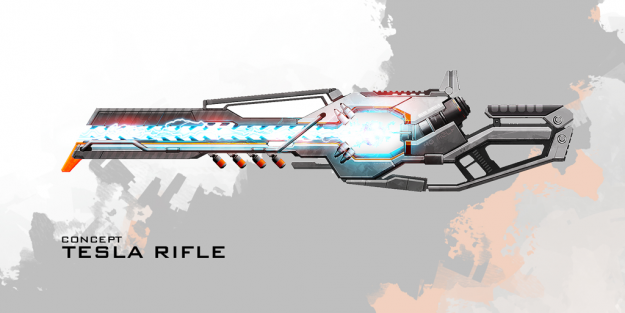 Releasing a new weapon is really something we're excited about. We feel that if something changes things in Sanctum, it's the weapon! The Tesla offers something new, with it's electrolution of enemies and melting of their faces when spamming the secondary fire. (Which by the way, works like a Chain Lightning effect) The Tesla will mix games up for sure, and maybe it will even force some of the oldest and most hardcore players to change up their tactics.
We've made sure to update information about all these babies on the Sanctum Wiki that our wonderful fans have put together over the time since the launch of the game! <3
In addition to this, we're launching Sanctum Map Pack - 2 as DLC, and we hope that this in combination with the free patch will be a welcome update for all you Sanctum fans. Sanctum Map Pack - 2 adds three brand new maps Invasion, Chasm & Corporation to the game, offering some new twists on maze layouts and challenge. A big focus when making the new maps was to ensure that even the most hardcore fans find a true challenge in them, so expect to get your face owned when playing at the higher difficulty levels.Chasm offer a slightly Mine-like maze layout where you have to make some trade-offs and design a clever maze. Invasion is perhaps the most outstanding new map, as it really makes you wonder what the heck those aliens are up to. This map offers a traditional take on Tower Defense, but with a twist (literally!) Corporation is an attempt to make a new map that resemble the way Glade works, but while offering the option to have towers attacking both "lanes". Grab Sanctum Map Pack - 2 on Steam now!
So.. Phew *breath* That's a lot of new stuff for an 18 months old game. Well, we think Sanctum still has a lot to give, and Sanctum 2 will really be radical. Feel free to visit our forums and discuss Sanctum, the new update, the map pack or Sanctum 2 with us developers directly!

Best
@AntonWestbergh
Coffee Stain Studios