The petition asking LucasArts and Factor 5 to make the Star Wars: Rogue Squadron 3D level editor available to the fan community has been started in March 2009. After more than a year we have hit the bar of 200 signatures today. Factor 5 has been passing through dramatic decline which left its US office closed and many unfinished project canned. Recent news about president of LucasArts leaving the company cast a shadow on hopes for a Rogue Squadron revival project similar to highly successful Monkey Ireland Special Editions series.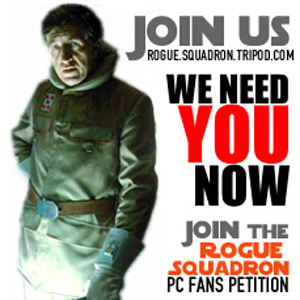 In September 2009 there was some correspondence with a game developer from White Harvest regarding our petition. What that person said about Rogue Squadron was that "...LucasArts owns all rights, assets and tools to all Rogue Squadron games, and are the only ones who can authorize this. I'm glad that you're still enjoying the old Rogue Squadron,... but I doubt that anybody will ever release the tools. It's actually quite a bit of work, and the interest isn't big enough (not unless the number of petitioners reaches 5 or 6 digits). Regardless, the request would most likely have to go through LEC."
Our last year call for joining forces to develop Star Wars: Rogue Squadron 3D Editor by ourselves was not a success to put it mildly. But there were few interesting ideas floating around e.g. using an existing engine/game to start a Rogue Squadron mod/total conversion project. What do you think about it? Which engine/game is the best for such a project? Would you be interested in joining it?
Unfortunately this was not much of a positive news, but it is encouraging to see that there are so many devoted Star Wars: Rogue Squadron fans around. Nevertheless a message with updates on petition is to be sent to LucasArts with a hope that this might result in their positive decision.
References:
Star Wars: Rogue Squadron 3D Editor Request petition - View current signatures, Petitiononline.com
LucasArts president resigns

Darrell Rodriguez departs Star Wars company after two-year run; publisher affirms development schedule not impacted

, Tom Magrino, GameSpot, 7 May 2010, Gamespot.com
Big Whoop! Monkey Island® 2 Special Edition: LeChuck's Revenge® Sets Sail This Summer, LucasArts, 10 March 2010, Lucasarts.com