What are we working on?


Hello! I thought I'd just make this little article to detail what we're currently working on and what we might be working on in the future.


Radiated


As many of you might already know Radiated - at the moment - is what we've been putting basically all of our work into. We've been working on the project since March of last year, we had a short break but now we're focused and ready to get this mod into the publics hands.

Here's a quick summary:

Radiated is a Half-Life 2: Episode 2 modification set in the ruins of City 17 moments after the events of Half-Life: 2 Episode One. You are Daniel Jackson, a rebel that has been left behind and never made it out of the city. You must adapt to survive if you're ever going to make it out of this new wasteland.


Autonomous Zero: Reloaded


Well, this is one that most of you might have forgotten, Autonomous Zero released in 2018 to less than stellar reviews. In short, it's sequels were canned and people from the team left.
Autonomous Zero: Reloaded is a complete re-imaging of Autonomous Zero, new levels, better gameplay and gunplay AZ:R is miles ahead of its predecessor.

At the moment this mod isn't getting as near as enough attention by the team as Radiated is still the number one priority. Although this will change as time passes and we have more free time.


Power Cut



Placeholder Image



Power Cut is a little project going on that is predominantly being made by two members Syph0 & MaddieDaKat aka YOUCλNUSESPλM. This is currently being made alongside Radiated and is suffering the same faint as AZ: R, but don't worry! Power Cut & AZ: R WILL be released somewhere down the line.

Here's a little plot summary:
This mod follows the side-story of "Nico", a rebel engineer. He has been sent by White Forest to investigate and repair a nearby power station in preparation for the rocket launch at the end of Episode 2.

This is mod is has very big puzzle and survival horror elements and is one of our most unique mods yet!

The big bads in this mod are none other than the Hunters, just not the ones you see in Half-Life 2: Episode 2.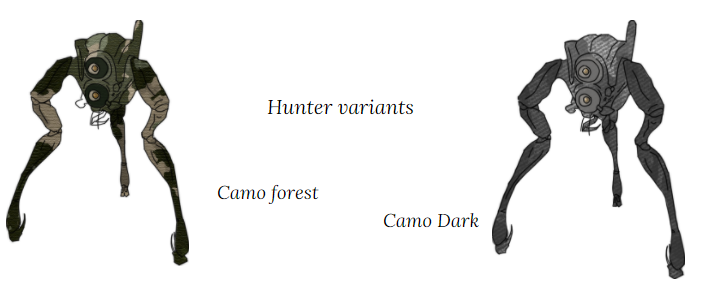 These new hunter variants are made to flush out and infiltrate rebel locations of interest.



Race-X - Kinda -



Well... at the moment we're not working on the mod although Syph0 has begun work on a brand new story it's unclear what'll happen with it. As soon as Radiated: Episode 4 is out and done Race-X will most likely start early development. This has always been a project we would like to come back to so it's something we'll work on doing some time in the future.


Well, that's it!
I hope you enjoyed reading this one through.
If you have any questions you'd like to ask the team make sure to join the discord linked below.

The Rogue Lambda Discord