Hello everyone,
The time leading up to this update has been a very uneven and weird, but as usual, I do have some awesome stuff to show you all.
For this update, I've had the help of a fellow Halo modeler; Velo. Velo was kind enough to help me out with a model I was having trouble with. The Covenant CDJ class Destroyer. He did an awesome job and we might very well see more of his work in the future.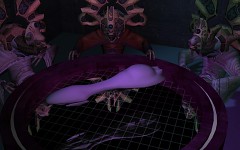 Besides the regular ship models, I have also made some props for this update. Two destroyed UNSC ships. The first one was shown in Halo: Reach; the UNSC Apoc class Frigate.
The second is the UNSC's mightiest Cruiser; the Marathon.
I'm sure that in the UNSC- as well as the Covenant campaign, both these props will be seen on several occasions.
Now I had hoped to include some new musical pieces Tay made, but unfortunatly I haven't been able to contact him for nearly three weeks now. All I can do is hope that he is okay and I hope I can confirm this for you all soon.
Now a small insight on what's on the drawing board for the next update, which I promise won't take that long. Right now I intend to have at least two new Covenant ships, the hulk of a UNSC Destroyer and, possibly, depending on my artist's scanner, a new, extremely large UNSC prop for the campaign.
Until next time,
Ciao,
Abyssinian