Why are you developing on two different engines?
Actually, it´s an interesting question. We started developing on an internal Beta of Reloaded, which got rebranded to GameGuru and released on Steam in the meantime, and we managed to create a basic gameworld with all needed settlements and spots of interest as well as the gameplay basics pretty soon. However, as we already knew that we want to strive for xbox one and PS4, if we get enough funding secured, we had also a sidetrack creating playable slices with similar content on Unreal 4.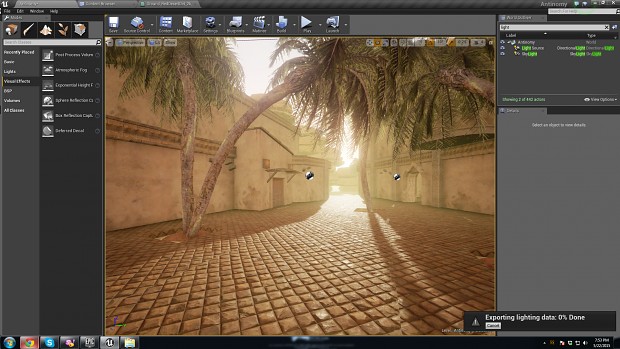 Why aren´t you going for Unreal 4 only?
To be honest - I (Ivan) don´t like the look produced by Unreal in context with what I have in mind regarding Antinomy. I prefer the old-school look we get from our prototype fed with the latest post-processing vintage movie + filmgrain shader. The team is quite split in opinion here, we really have half our team prefering our customized GG renderer, and the other half prefering Unreal 4 with some tweaking on the post processign there. Of course I agree that the Unreal look is by far more modern and better from a technical point of view, and I would prefer it for many other games & game settings, but not for Antinomy. So we let fate decide. If we raise enough $$$ for multiplatform, we go Unreal 4, otherwise we stick to GG. And in the meantime, we prepare for both.

However, even I had to admit that some of the assets created for the Unreal track simply looked awesome when placed into the right surroundigns and light settings: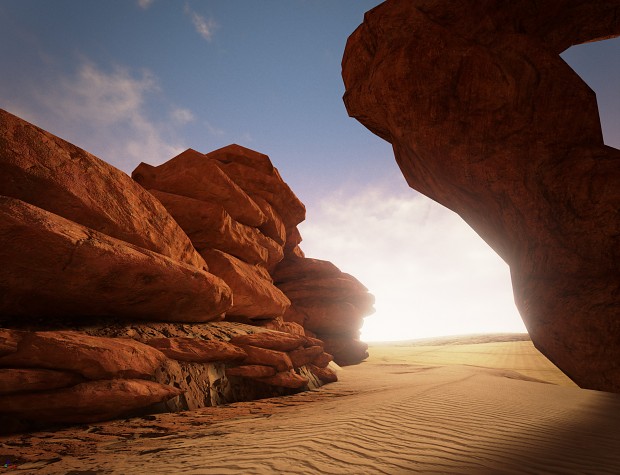 And, I had to agree, that we have a slight visual problem regarding the terrain in our current GG prototype. Basically, while the small sand dunes and hills are looking good and convincing, everything that is steep and high enough that it would only appear in nature as rock formation instead of an accumulation of sand, looks very artificial when created with the GG terrain system (unless you invest an insane amount of time in the editor tools):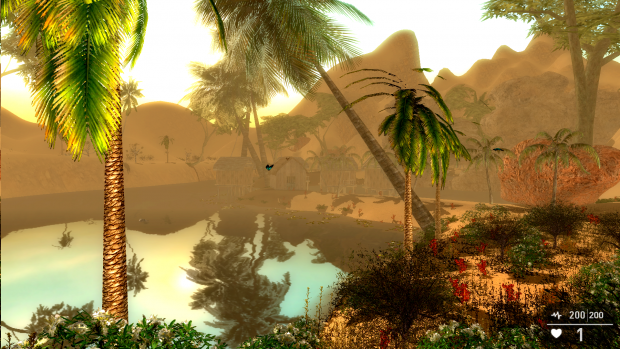 And while we poor souls working on the GG track with all the gameplay and weapons and character AI preparations, our Unreal 4 mastermind stunend us with some terrain elements and quite decorative rocks and rock formations he created for the surroundings of the UE4 test settlement.
Cliff, let´s rock! (and roll)
Ok, the solution was pretty clear - unifying the asset pipeline regarding those elements, and then expanding it to a real unified Asset pipeline in a way that they look similar to each others and similar in each engine.
Challenge accepted!
So we try now have the GG assets in UE 4 with as much GG look as possible, and voice versa while still fitting into each respective world. THe first test runs were performed with smaller rocks and rock formations, then with first cliffs and larger terrain elements. Here some first impressions of the first insertions of those assets into our GG prototype: