I'm a little late, but a new demo is available to play! 3 levels and a Boss Level – along with the mini boss (on level 1). Made some changes, optimized enemy spawning, fixed a bunch of minor issues.
Updates & Changes
Level 2 has become level 1
Level 1 has become level 2
Level 3 is... Well... Level 3
4th Level is the main boss level.
I removed the fall death on the player. Jump or Fall from where ever you like. :)
Spikes still kill
Crushers (still kill) and are working perfectly as expected. They can be a bit more forgiving since I added a close call function to them. When you have a speed boost or in the thick of battle the crushers wont be as nasty.. They do still kill you on the downward crusher contact.
WASD and updated Keyboard controls. - Many issues due to the keyboard configuration. I don't get it, cause I typically play with a gamepad. (which greatly improves game play) But I mafde adjustments based on feedback and testing.
Quantum CPU Minin Boss : added to level 1.
Shape shifting crates have NOT been implemented yet. Still testing them out.
Potential Hover Ability – NOT added due to fall death removal
I also added Leader Board functionality.
If you want to be ranked for high scores head over to the Scirra Arcade and play Robot 505 :
Downloads for the Robot 505 Demo :
I still have to bang out a bunch of story and promo art along with adding some cinematics to the mini boss and main boss levels.
Updated Controls: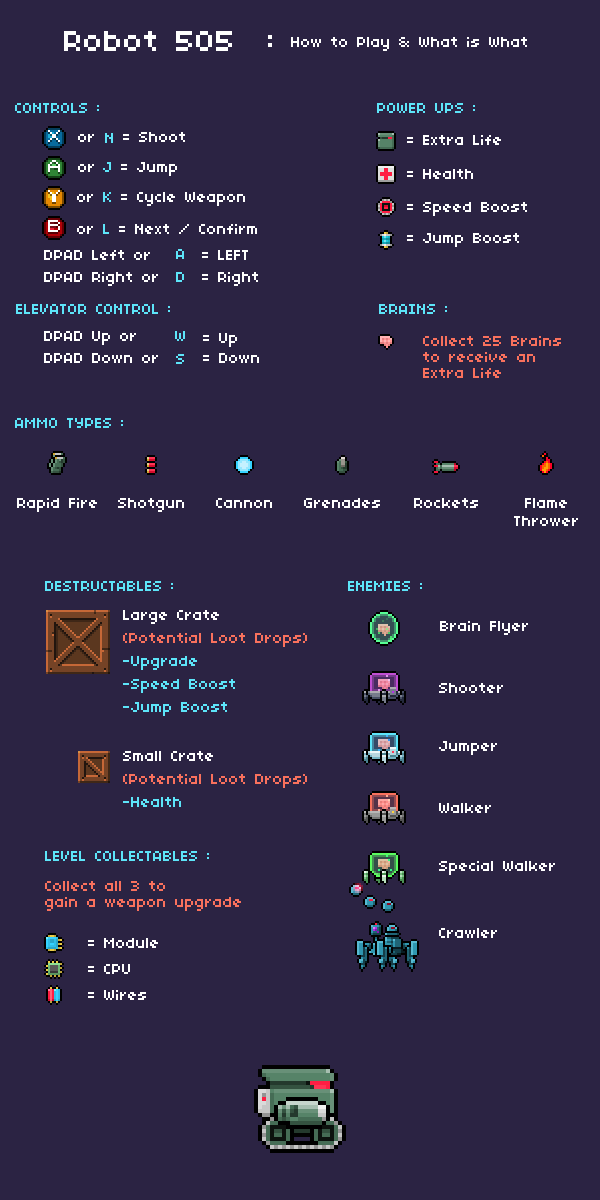 As always, feedback is welcome and Have fun!