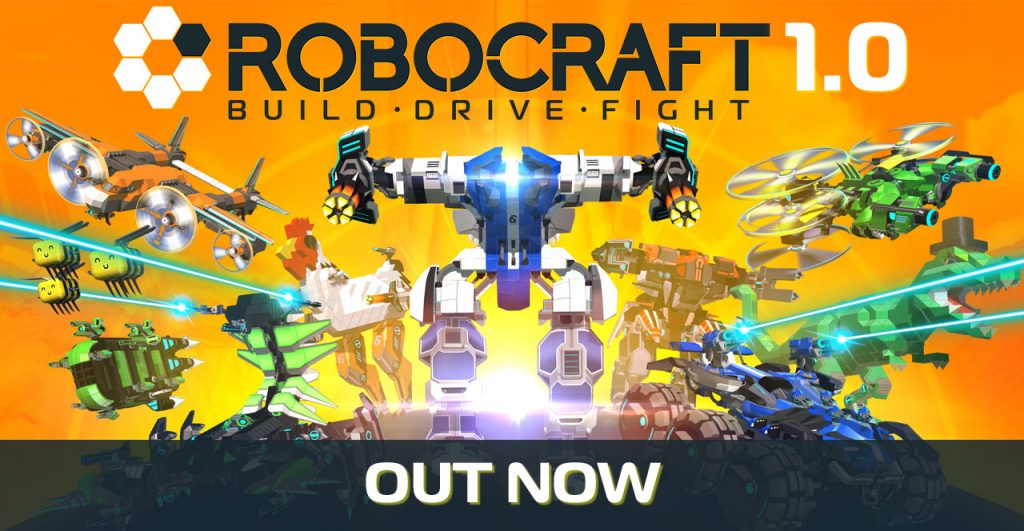 Today is a very special day in the Robocraft calendar - it's the day we left Early Access and officially became Robocraft 1.0! We celebrated this milestone with a cracker of an update with some cool new features and cosmetic effects. We also made further improvements to the game and fixing a whole raft of bugs too. That's not all; as way of thanking you for being part of the Robocraft development journey, everyone that has registered prior to today's update received some awesome rewards that include super-exclusive Pilot Seat Cosmetics that will never be found in crates, be purchasable or made in the Forge.
NEW:
Cosmetic CPU

Every Robot will have a Cosmetic CPU Pool
Putting a single cosmetic part onto a Robot will remove 1 pFlop from the Robot's Cosmetic CPU Pool
When the number of cosmetic parts added to a Robot exceed the available Cosmetic CPU Pool, the pFlops from the Robot's regular CPU Pool will be used
The available Cosmetic CPU a Robot has will be displayed in the Robot Info panel in-game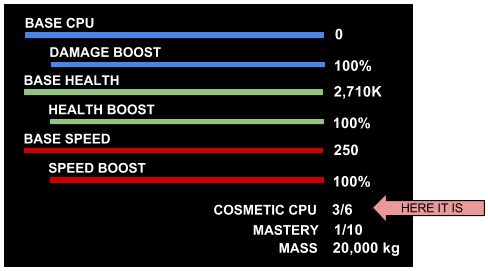 For more information on the new Cosmetic CPU feature, read our recent Dev Jam.
Taunt Feature

Taunt your enemy with fun audio and visual FX in battle
Taunts are triggered in battle with the press of the Q key (set by default)
Taunts can only be used on Robots with complete masks
If a mask part has been destroyed in battle players can still taunt
New visual FX for complete masks on player Robots



For more information on taunts and to hear the fab audio, read our recent Dev Jam. Early Access Player Rewards As way of thanking you for being part of the development journey we're going to be handing out some very exclusive rewards to all our players who registered accounts before us releasing tomorrow's update. When you log in after tomorrow's update has been released you'll receive some goodies - what you receive will be dependent on how long you've been with us.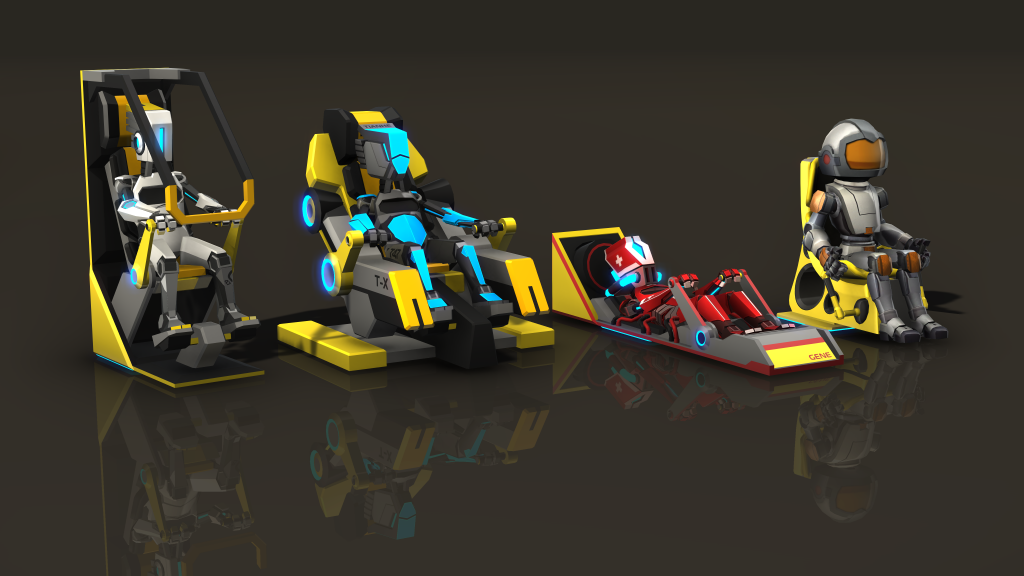 There are four types of Early Access reward, with your account age determining what you'll get when you log in after 1.0 launches on 24th August. You won't need to input a promotional code on launch day or anything like that, instead these items will be gifted to you directly after you log-into the game. This handy table below details what you get:



Please note that the cut-off point for receiving the rewards is 08:59 (UTC+1) 24th August 2017. If you register an account after this point, you will not receive any rewards. Don't forget that the Pilot Seat Cosmetics are exclusive to the update and so you won't find them in crates, the shop or in the forge. You also won't be able to download Robots from the CRF with Pilot Seat parts you don't have. Also, if you recycle the parts, you'll lose them and won't be able to get them back. For more information on what rewards you can expect to receive, click here.
---
IMPROVEMENTS:
Play Menu user-interface updated
Tweaked the default sorting for Robots on the CRF so that 'most bought' Robots are shown first
All glass cubes moved from Cosmetics to Chassis tab in Inventory/Recycle
All parts in the Cosmetic Category and visual variants of some parts can no longer be forged*
*advance warning was given to players allowing them sufficient time to forge any cosmetics prior to this functionality being removed (click here for more information)
---
BALANCE CHANGES:
Sprinter Leg Perseus and Sprinter Leg Hermes base speed increased from 160 to 180 mph
Chain Splitter and Chain Shredder damage per shot decreased by 10%
Chain Splitter and Chain Shredder energy per shot decreased by 19%

Before the patch, Chain Weapons often ran out of energy fighting a tanky Robot in a 1 vs 1. We want Chain Weapons to be a proper counter to such Robots, so the energy per shot was reduced. Leaving their damage the same would surely make Chain Weapons overpowered, so it was reduced as well. Overall, Chain Weapons are shifting a bit from 'alpha strike' to sustained damage

Nominal count for all weapons in the 100-200 CPU bracket reduced to 2
Nominal count for all weapons 200 CPU and above reduced to 1
Health for common chassis cubes increased from 1,200 to 1,350
Cosmetics now have a mass of zero and health of zero
Health Boost for common chassis cubes decreased from 0.075% to 0.06%
All parts (excluding Cosmetic parts) have had a 12.5% health increase
In addition to the 12.5% increase, we've re-balanced health for many parts: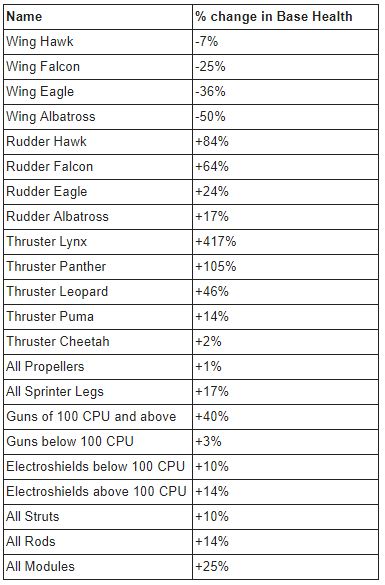 Notes on these changes:
Wings are very strong now, so their their health doesn't need to be as high as before
At the same time, Rudders weren't strong enough, so we increased their health
For a long time, for balance reasons, Thrusters health was low (and for Thruster Lynx it was way too low). We have taken this opportunity to fix their health
Now Sprinter Legs provide no Health Boost they can be a bit tougher while still being different enough from Mech Legs
Big guns were always rather easy to destroy, but with the Damage Boost change they were just too fragile
Electroshields and Struts had lost their niche with the introduction of Health Boost. Now, having more base Health per CPU than Health Cubes do, those parts may see more use again
Rods had their Health increased as well, per CPU it's now identical to Health Cubes. Combined with their low weight, this should make them more regularly used
Other health changes were just to create more consistency in terms of Health per CPU
---
BUG FIXES:
Reduced the projectile firing distance (no longer much further than the player view distance)
Flattened some bumps in the terrain on Birmingham Power Station as they were causing some wheeled Robots to spin out of control
Fixed the ceiling height for Wings - before they could fly above the max distance of an Aeroflak
To improve server stability, clan avatars have been temporarily removed from Player friends
Fixed various translations in the game across multiple languages
Fixed a bug which allowed you to copy and construct Robots with non-forgeable parts
Fixed a bug which failed to half the base speed of legs if the Robot only had 1 leg
Fixed a bug that caused the tutorial to not complete if you selected another Robot during the bay loading screen
Increased the Rail Impaler recoil force
Fixed a bug which allowed muted/silenced players to continue to send whispers
Fixed a bug that caused a weapon crosshair to not behave correctly when fast-switching between some weapons
Fixed a bug which caused the lobby cursor to shrink when placed over the Xbox advert in-game
Fixed the Base Capture Speed setting for Elimination in Custom Games
Fixed AI for hover Robots - they will no longer rise when you look at them, fall when you look away in Play vs AI mode
Fixed a bug which caused the tutorial Robot to briefly load in when entering the tutorial via the main menu
Fixed a bug which caused an incorrect error message to appear if you sent a friend invite on the battle stats to someone who has the maximum amount of friends
Removed an extra layer of connection points from the Mech Leg Titan
Removed invalid connection points from underneath Tank Track parts
Removed invalid connection points from the Hover Hurricane part
Fixed a bug which permitted the placement of blocks on Electroshield B parts
Fixed a bug which made it possible to select a part in your inventory while not being in Edit Mode
Fixed a bug that caused custom game invites to be sent to the last invited player if the text field is empty
Fixed a texture color on Carbon 6 Thrusters
Corrected the placement of the 'shop expiry' widget for any Robots uploaded to the CRF