Before the war between Venucci and Miana broke out, Roberto was the best diplomat and one of the closest friends of Dante, the previous Viscount of Tarona. Being a loyal patriot of his homeland and reluctant to see Tarona become a vassal of Miana, he acted swiftly after the death of Petruzzo, advising Dante to declare Tarona independent. However, this attempt turned out to be a complete failure, as Giacomo, new Mianan lord, not only suppressed the Tarona military forces, but also killed Dante, taking the city under complete Mianan control. That said, Roberto was able to escape execution and secretly stay in Tarona, coming up with plans and gathering loyal people to seize the rule of Tarona. And that day has finally come. After Giacomo captured Venucci, the Doge was able to escape and reach Miana first, destroying the city with the giant siege cannon - so called "Doge's Hammer". As soon as Giacomo began chasing the Doge deep into the desert, Roberto ordered his militia to march on Tarona, smashing the city's scattered garrison and proudly declaring Tarona independent again. Since after the fall of Miana the Vinci lands plunged into chaos again, Tarona was almost ignored by Pirata and remaining Mianans forces, which benefited Roberto, since he was able to begin the restoration of Tarona's industry and army. He declared himself the new Viscount of Tarona, promising his people to keep Tarona independent and safe. However, after the death of Giacomo and Lenora's return to Pirata, it became clear that this shaky peace would no longer last.
---
Roberto, Viscount of Tarona
Self-proclaimed ruler of Tarona who's willing to do anything to keep Tarona independet and safe.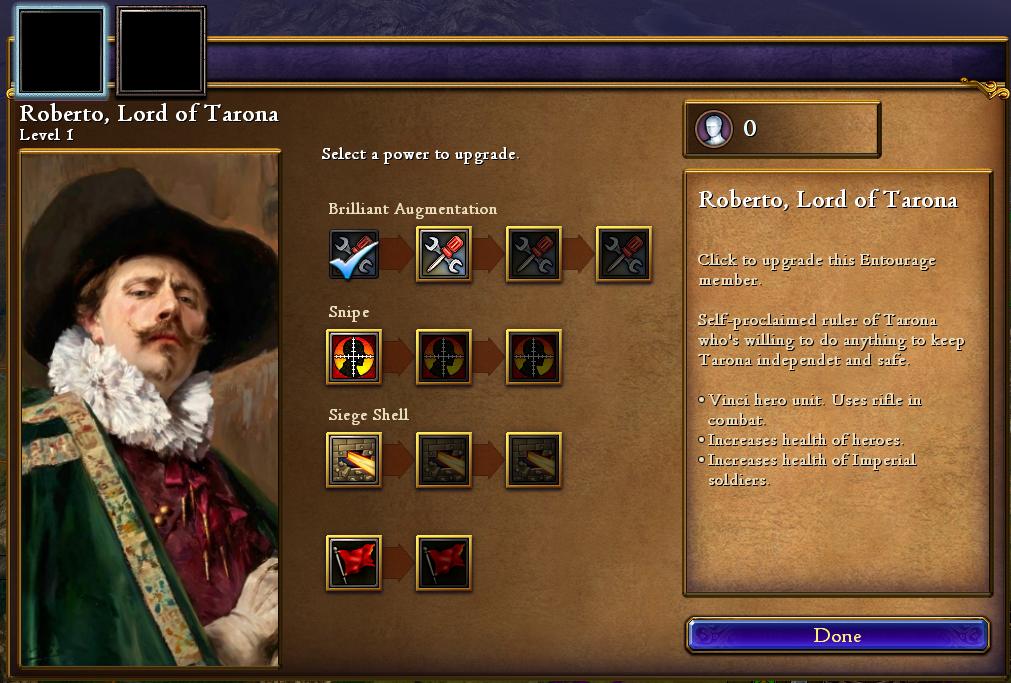 * His last ability is "Inspiration Flag", which creates a big flag that buffs all friendly units (attack, speed, health and range buffs if to be specific) around it for a big amount of time.