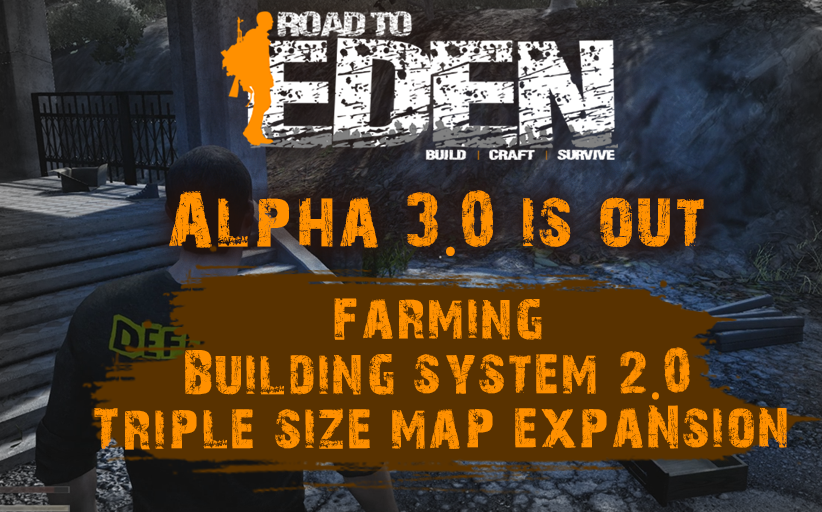 Alpha 3.0 is out!
We are working hard to bring you new and exciting stuff with every update.
In this update we have expanded the map to make room for new points of interest, the map size is now 3 times bigger, and we have also added the new supermarket POI.
We have upgraded the building system and added structural integrity, all blocks need to be supported, players need to think like architects now!
And last but not least we have added the new farming system. Players can now find or extract seeds and plant them in prepared farming plots. All crops need water, that's why we have also added water reservoirs that players can replenish with buckets.
Thank you all for your continued support. See you all in game!

Update notes:
Expanded the map to triple in size and added new POI "Supermarket"
Grenades now attract the infected
Upgraded mantis dome
Upgraded the building system and added physics to blocks
Stone nodes now give stone, iron and sulfur
Recycling sleeping bags will get you clean rags
Players can now fill reservoirs with buckets
Players can fill buckets from water sources
Players can now close all containers with TAB
Players now consume stamina when using tools
Players can now scrap linen for clean rags
Battery power will not regen anymore
Reduced infected vision range
Reduced infected in early game
Reduced item spawn rate
All items are now restored to hotbar when player is loaded
Synced windows bars on all clients
Fixed save slot delete button
Fixed lingering weapon when client disconnects
Fixed double box on death exploit
Added pressing "Q" takes all items and closes container
Added quick consumable slot on hotbar by pressing "T"
Added water buckets
Added large empty bottles
Added water reservoir
Added welding station
Added welding torch
Added sulfur powder
Added iron ingots
Added iron plates
Added iron trusses
Added iron ORE
Added furnace
Added sulfur ore
Added iron support beams
Added clay bricks
Added sticks ramps
Added large sticks walls
Added large sticks floors
Added large cobblestone blocks (3x1)
Added large cobblestone blocks (4x1)
Added small wood support
Added large wood support
Added corn seeds
Added Battery spot light
Added skip intro with "end" button
Added berries seeds
Added potato and potato seeds
Added medium farming plots
Added lettuce and Lettuce seeds
Added onions and onions seeds
Added pepper and pepper seeds
Added pepper packets
Added salt packets
Added coffee Packets
Added corn starch
Added flour
Added wheat and wheat seeds
Added eggs
Added boiled eggs
Added carrots and carrots seeds
Added kebab
Added corn on a stick
Added green beans and green beans seeds
Added brick oven
Added bread
Added baguette
Added dough
Added windmill
Added fireplace cooker