Our one modeler and texture artist "Feng" has been taking a little time off from working on the new island edging meshes done to work on getting the Ice Cannon Textured normal mapped. There is still a bunch of tweaking to be done yet on the texture and the normal mapping details but we thought everyone would like to see how the latest Rain unit is coming along.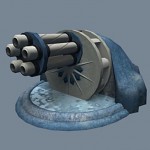 Our Main Coder has also gotten more of the island generation system implemented into the editor and gotten it so it now uses the new edging meshes that "Feng" has done. so in next sets of updates soon we hope to be able to show the new islands and how they look.
Also our head coder has started implementing the basics of MP so players can now join a a lobby and start a game and join one, hopefully we can keep up the progress and sometime in January or February start doing some Multi-Player testing and be able to start recording some videos showing network play of Rising Storm.