From a Post on the Official VK Page early this morning, written by our Project Lead Romzet This is a general translation of his statement originally written in Russian Language:

" Hello.
Today we have very interesting news.
April 18, at 2 am on MSK our mod was removed to STEAM Workshop, for theft ...
As it turned out, this complaint was written by some individuals who keep their own server with a hodgepodge of mods, to which OUR mod is also included. And the juicy detail is that they have uploaded OUR mod on Steam a day earlier than we, but under their name.
In the end, the moderation of STEAM based on the publication date, considered that they are the creators of fashion and took action against us, accusing us of theft of content.
It was a blow below the belt on our team.
But we were able to contact Dwarden, one of the main developers of ARMA3 and proved their authorship, and also proved that these shitheads are real thieves and liars.
As a result, detractors were removed, but we were returned and received apologies.
Everything was decided in less than an hour.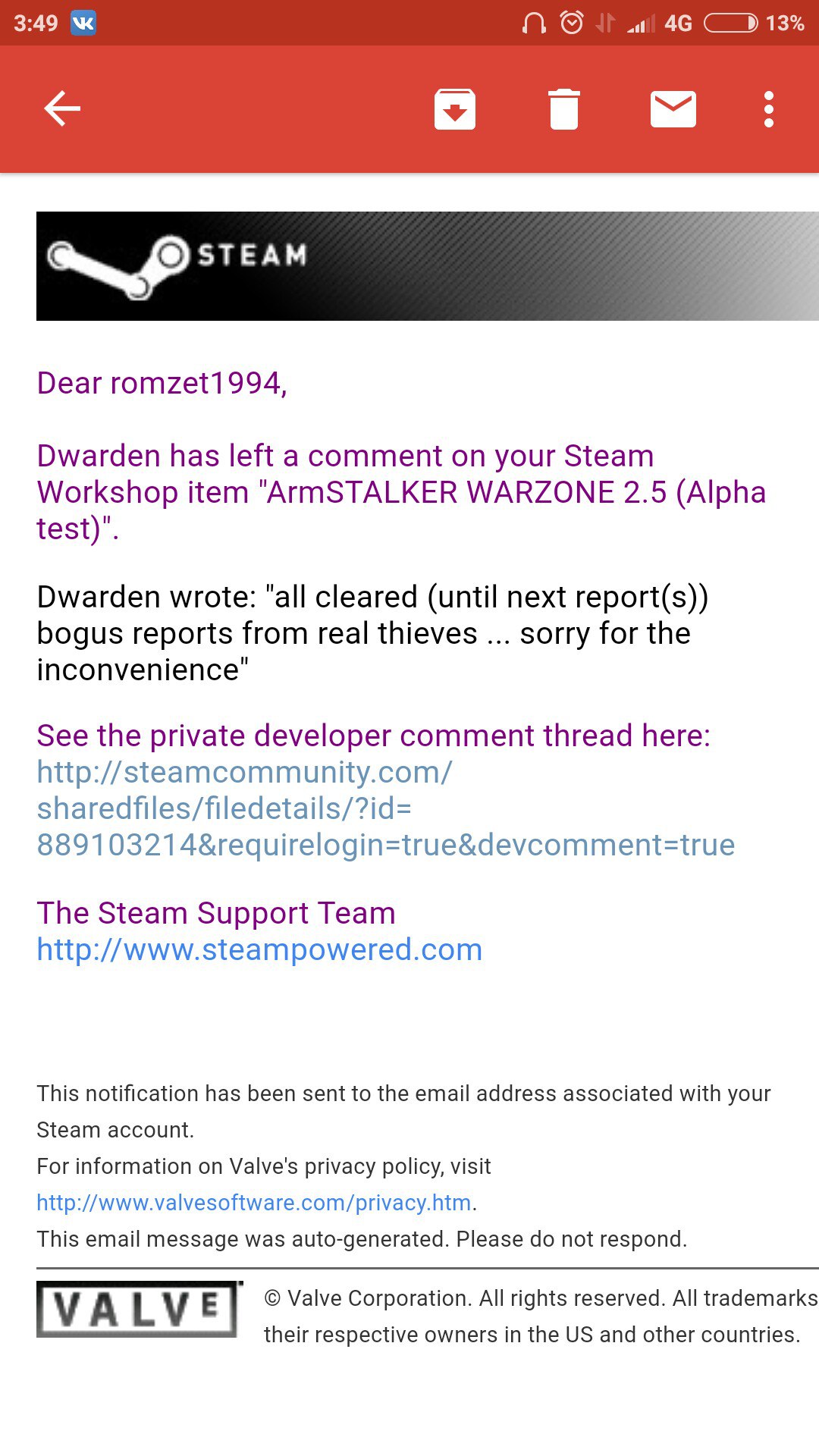 We are not very pleased that using our mod, people are trying to deal damage to us. But what's the catch? They will close us and no mod will be updated, this is stagnation and an early death. After all, except for our team, no one else is creating anything independently. Development is the key to success.
Many people do not like us, steal our achievements, give them away for their own and play on such servers - supporting them both morally and materially, throw time and money into the void, because all these servers appeared only after we created and made the files readily available.

We have proved for a long time now that we work on enthusiasm, we work primarily for the sake of implementing our ideas, our server is a huge platform that helps us in the development of the project. A server like those that stole our content and tried to put us on the wheel , Exist only for the sake of self-assertion in their "dominance" - and to raise funds from people. These people often even have the impudence to be called "projects" which is a blatant lie to all those who are not aware of the current state of affairs and do not know that these "projects" are empty, unpromising and will never create anything of their own.
But, Thank God, justice triumphed, and Bohemia demonstrated that justice and order is just as important in its modeller community.
It encourages us to continue to develop. And to the rest we want to say - do not steal, betray your own, or try to sh*t on us. Better to offer your help, and together we will make the best mod on ARMA3.
Now that we have contact directly with one of the main developers of Bohemia, we are confident in the future and plan to please you more and more. In spite of such a great path, we still have a lot to go through, many times to make mistakes, correct ourselves and strive for the best.
To strive for the dream of many fans of the stalker universe - to create an abnormal Zone, which is alive and dependent on people's behavior, where every stalker is a living person, and all events take place online, and in the scenery of the Chernobyl Exclusion Zone."
-Translated and Edited by Uncle Boom