---

Rigid Force Alpha – Monthly Round-Up, July 2017

Welcome to the first in a series of monthly development round-ups for our retro arcade action shmup Rigid Force Alpha! We're getting closer and closer to completing our long-time project and we think there are enough interesting things going on to write a regular update. So, here it goes!

The New Rigid Force Alpha Ship
The original player ship you see in our older shots has been in the game for roughly six years and was created back in the time when Rigid Force Alpha was still a hobby project. Well, we always wanted to replace it by a ship with a more modern look; something that was more recognizable from the side view that you'll play in most of the time.
After doing quite a few scribbles and test models we came up with the following mesh which now officially became the Rigid Force Alpha. We're still going to add some more details to the texture, but we wanted to show you the final mesh as it is now anyway.
So – here it is! How do you like it? We'd love to hear your opinions on this one, so make sure to leave a comment!
Enemies in Detail: The Plasma Sphere
Another series we just started over on our Twitter account – Rigid Force Alpha Enemy Renderings! With these we want to share a little bit more info on the many hazards and enemies in our game. Here's the first one of them – enter: the Plasma Sphere!
You'll face them in stage 2, a vast space station under attack. These simple plasma-based lifeforms are bread by RFA's main enemy, the CORE, inside the pipelines of the space station's supply network. Their simple sense organs allow for detecting your shots, so these spheres will try to avoid them, while simultaneously aiming to close in on your ship in order to infect it.
Avoid these things at all cost!
Animated GIFs!
Now we'll also release animated GIFs with short scenes from Rigid Force Alpha on a regular basis! With each one we aim to show a special game feature, or an exciting or memorable moment from the game. Check out the first few shots here!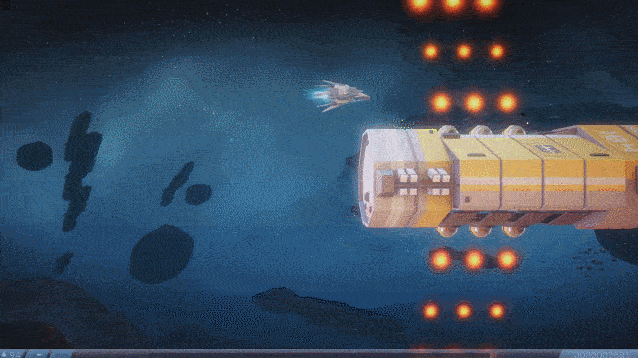 Here's RFA's new respawn routine. For the longest time we've had a cheap looking effect and a simple pop-up respawn in the game whenever you lost a ship.
Now we really spiced that up – your destroyed ship will burst into flames, with an explosion combined from six single FX elements (full-screen background flash, shockwave, animated explosions, glowing sparks, lots of debris and a heavy screen shake). The respawned ship will come in from the left, very close to the camera, and fly into position. This gives the view a lot more depth.
During that fly-in phase you'll already be able to slightly steer the ship, in order to find the perfect spawn position. By giving the player control over the ship during this moment we prevent spawning it accidently inside the level geometry. Nice trick!

The two animated GIFs above show two of RFA's main weapons in their charged-up state. They really pack a punch! We'll soon release some more info on our overall gameplay mechanics, so stay tuned. Until then – enjoy these GIFs!

Effects Showcase
Here's another look on our explosion system. It's fully customizable, and we're able to add or leave out certain details, like debris, sparks, glow, screen-shake and so on. This shot shows a pretty big explosion, and it's mighty impressive to blast up a big enemy and watch it explode and vanish in space!
And here we give you a closer look on our charge effect. This effect is triggered by charging up your main weapon, as you can also see in the GIFs above. We're still experimenting with certain graphics, but right now it's already pretty cool.

That's it for this month. We hope you enjoyed our update and stay tuned. Make sure to not miss our future updates by hitting the "Follow" link right away!
If you prefer to follow us on one of the other social media networks, no problem – just click the logo, we'll take you there!




Thanks for reading!