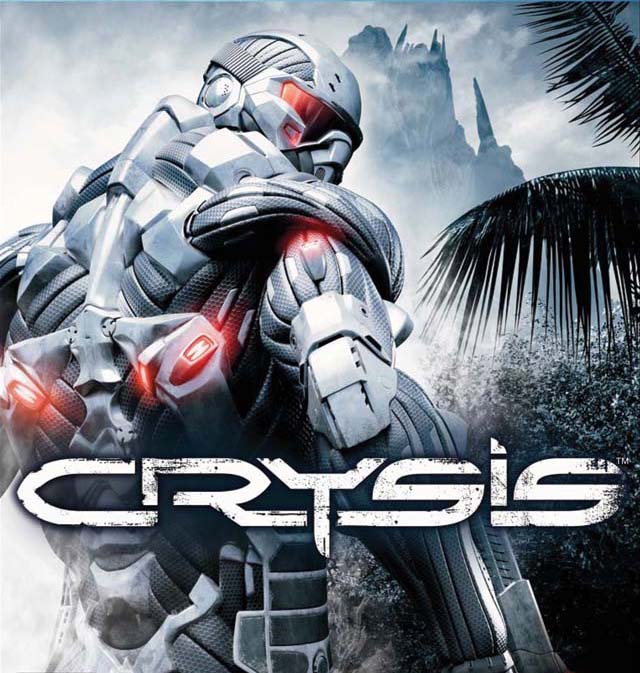 Since Doom was released in 1993, few games were graphically revolutionary like it, some tried to copy the formula to it's success, but didn't make it. In 2007 though, a game has been known in the entire world for it's jawbreaking graphics. It was Crysis, an FPS released by Crytek to the PC, the same developer of Far Cry, that changed the fate of the graphics in the industry of gaming.In the 2000's the videogame world was giving a next step, slowly developing even better graphical engines, but Crysis exceeded these other games and gave not a step but a big jump to what we call today FPS's.
For that time, Crysis graphics were so advanced in comparison to other games that some people considered it the "beggining" of a new age to the videogames. Sometimes considered life like becase of it's outstanding graphics, Crysis used Microsoft's API, Direct3D for graphics rendering, and includes the
same editor that was used by Crytek to create the game.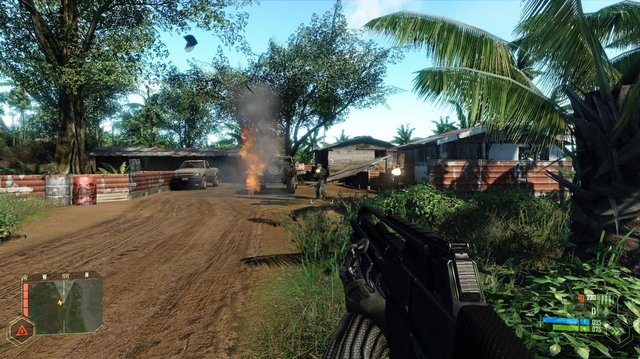 The game runs on a new engine (CryEngine 2) that is the successor to FarCry's CryEngine. CryEngine 2 was among the first engines to use the Direct3D 10 (DirectX 10) framework of Windows Vista, but was designed primarily to run using DirectX 9, both on Vista and Windows XP. Unfortunately, Crysis had high hardware requirements in order to play the game with max graphics, so few pc's at the time managed to get the maximum capacity of the game.
In 2007 Call of Duty 4 and Crysis had what I call the "graphical fight" in the market. In some points COD 4 could be better than Crysis like the story, but talking about map, freedom to complete the objectives, the action and the own graphics, Crysis was way better.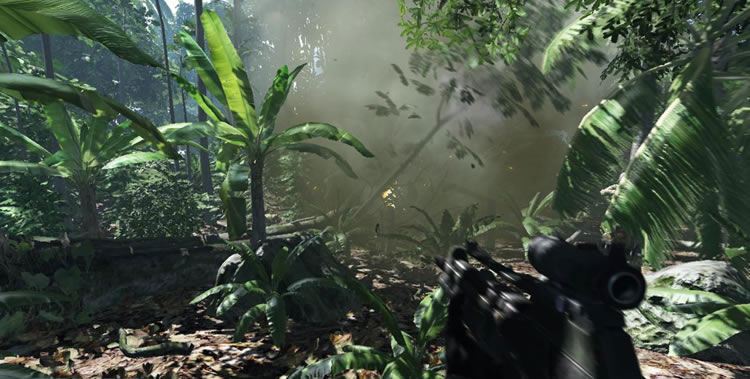 The story, though not the strong point of the game, is not and should in no way compared to other similar titles, as it is simple: in 2019, American archaeologists on an island in North Korea find something interesting in his excavations . However, the North Korean government sends troops immediately to the site and Nomad, an exemplary soldier of Delta Force of the Army of the United States, is sent to investigate the site. In Crysis you will not only fight against these North Koreans, but also with aliens.
The gameplay of Crysis is entirely based in a high tech nanosuit, which has special abilities that you can use in the game: use a cloak mode, have an inhuman strenght, activate an armor and a super agility. All these abilities can and have to be used in order to survive in the game, but they are limited and drain your suit's power.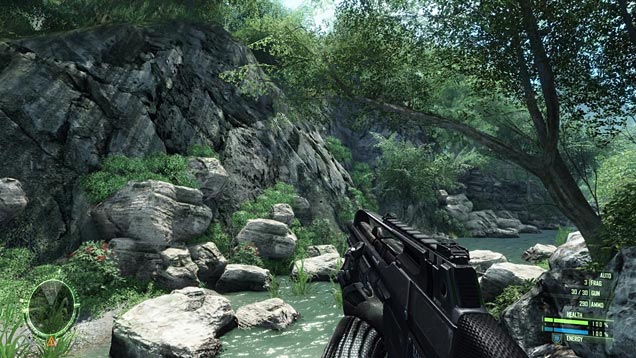 The game features assault rifles, sub-machine guns, pistols, missile launchers, shotguns, miniguns, sniper rifles, gauss rifles (or coilgun), the MOAC (a machine-gun-like Alien weapon which fires high-velocity ice shards), and the TAC gun (a hand-held nuclear grenade launcher). Most weapons can be modified with attachments; these attachments may be given to the player by default, acquired from picked-up weapons, or purchased in multiplayer
The suit's integral mask has it's own HUD displaying typical data including a tactical map, health, current energy levels, and weapons information. The view is electronic in nature, shown in-game through things such as a booting readout and visual distortion during abnormal operation. A particularly useful utility is the binocular function, which allows the player to zoom in and electronically tag enemies and vehicles from afar, thereby tracking their movement on the tactical display, this makes of Crysis not only a game of rushing and killing enemies, but also avoiding and silently taking them out.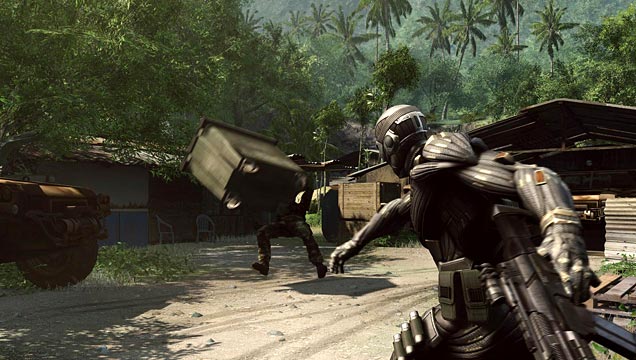 The enemies in Crysis have an A.I very different to other FPS's, due to they stay in group to ensure their survival, use different tactical advantages to try to kill you at all time and they always look for you in all places, so using cloak at all time, besides draining a lot of the suit's power, can make you be easily found.
In some situtations of the game you can choose between different tactics to kill the enemies, for example, if you are seen you can either use your suit's armor to receive less damage, enter streght mode to tear them apart or just enter in cloak mode and hide, which you probably won't use. Vehicles and objects such as barrels can be used to kill them.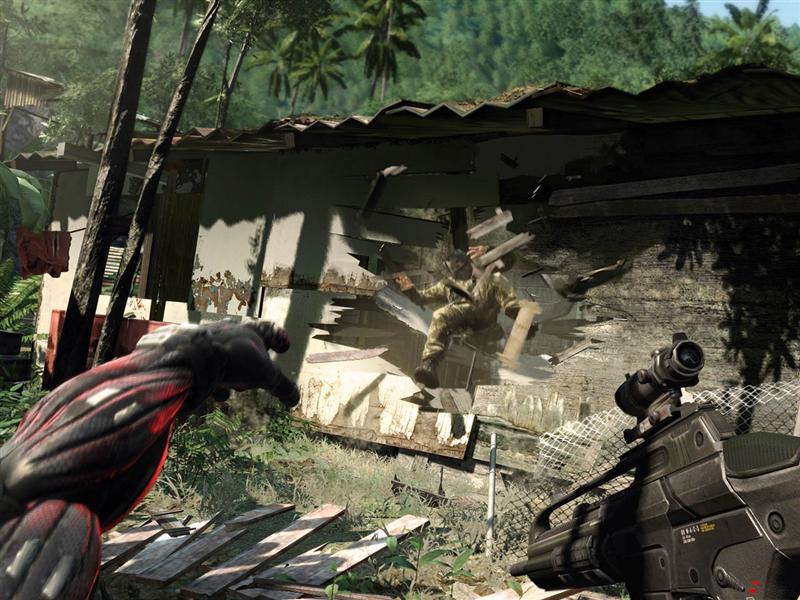 Crysis contains a level editor called Sandbox, much like Far Cry's, in which new levels can be created and edited. Such levels will have full support in all multiplayer modes. This will allow the player to easily build their own levels, seeing everything in real time within the editor. The player can also jump into the map they are working on at any time to test it. The editor is the same one that was used by Crytek to create the game.
Crysis has also a multiplayer mode with up to 32 players in each match, it uses the GameSpy Network and requires the user to have an existing user i.d. or otherwise create a new one. It works with servers.There are two different modes, each with six available maps: Instant Action, a deathmatch type mode; and Power Struggle, which is played by two opposing teams, each trying to destroy the other's headquarters.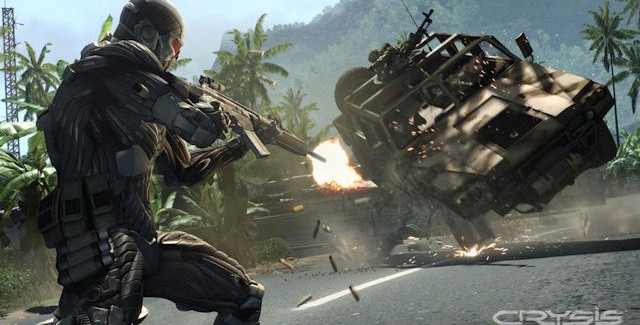 It won many awards, between them "Best Shooter" and "Best Game of 2007" on GameSpot, PC Gamer awarded Crysis it's "Game of the Year" and "Action Game of the Year" in it's March 2008, "Games of the Year Awards" issue and it had one of the highest ratings in the videogames.
In 2008 an expansion was released to Crysis, which was called Crysis: Warhead. The game uses the same engine as the first but with updates to the graphics and passes at the same chronological time as the first one but in the other side of the island and with another character. In 2011, Crysis received versions to the Xbox 360 and PS3.
Crysis even after all these years, remains as one of the most important games ever made, not only by it's cutting edge graphics, but also for it's amazing gameplay and introducing a character with an amazing suit capable of anything that were always in the dreams of everyone, it's sequels are nothing but "copies" of the original one's success formula. Crysis is not only a benchmark game, it is "The" Benchmark game.