Hello everyone,
First of all Happy Holidays to everyone, hope yours is going great. Today we're going to take a look at whats to come and I ask you the community for help. So work as returned to the normal turtle pace since my unbanning (Thank you so much valve!). I've been working hard on mapping, making textures, do concept drawings, learning C++, pretty much everything that needs to be done, I'm so tired. After staying up till 3 last night I realized I absolutely need some help if this mod is going to be finished in a reasonable time span. So I ask you the community: PLEASE HELP ME!!! Below is a list of positions I need filled sooner than later:
Prop Modeler:
-Must be able to create quality props to be used in in conjunction with the maps. Most of your work will be designated by the mapper (me) and what he needs at the time. Also must of experience exporting for the source engine and unwrapping your own models. You will not be expected to make your own textures but if you have the know how and feel like doing so go right ahead.
Organic Modeler:
-This position will create things such as npc models. Pretty much the same requirements as the prop modeler, but knowing how to animate is a big plus. Also must know how to rig a character and use procedural animation.
C++ Coder:
-Very important position and probably the hardest to find. Must be extremely proficient with C++ and it's use within the source engine. Also must be able to compile the release code and use the SVN to share with the rest of the team. A lot of things depend on the coder including a lot of new gameplay elements and the maps.
SVN Manager:
-Someone who can setup and perform maintenance on the SVN server so the rest of the team can get the files needed to do their work. This position is necessarily needed at this point but in the future it will become very important.
Faceposer Expert:
-This person will need to have a lot of experience using faceposer and setting up scenes for use in Hammer.
Voice actors:
-Requires you to have a relatively high definition microphone and respective recording software. Some acting background would be a huge plus. At this point I need 3 male voice actors and 2 female.
Concept Artist:
-Must be able to create concepts of props, people, landscapes, and scenes. If you feel like your up to it I would like to see a portfolio prior to recruiting you.
I think that's it for now. If you feel like you could help out in another way feel free to shoot me a message here on moddb or e-mail me at Adrenalinedev@yahoo.com. I'll keep on trying to get things done with my little one man team while I wait for new members. Maybe Santa will bring me a Coder for Christmas.
Anyway here's some screenshots of the prison map I'm currently working on. Sorry I don't have a trailer yet, that will be a late Christmas present or maybe a New Years celebration kind of thing.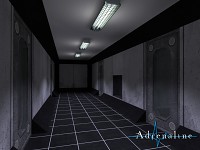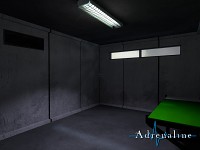 Hope that can tie some of you over till I have some more stuff to show you guys. I know they look bare but again that's why I need some more team members!
Happy Holidays,
Tristin Maniscalco (Exosoldier22)