If you've been paying attention to the mythology of the mod so far, you'll probably recognize that today is a special day. Today is when the original explosion in Clear Fortune was supposed to take place.
It's funny looking back at the early days of the project when I thought I'd have it out early enough that such a date would still work for 'near future' and not 'I'll be lucky if it isn't 2011 by the time I get this mod done.' Needless to say I'll be forgoing such specific dates from here on out.
Since I'd have to change that bit of information anyways, I've decided this is the perfect opportunity to update the main page a little. But as you've probably noticed by now not with new text, but with a full image/text combo. I'm incredibly pleased with the way the image itself turned out, and after more then a little head scratching and some generous help I was able to get it all loaded correctly.
In other news, work continues slowly but surely on polishing up the Outskirts. Mostly adding in the small bit of forest that runs along the side of the location. I'm trying hard not to make a 'can't see the forest yada yada' joke but my god there are a lot of trees.
In fact, as near as I can count there are 107 trees just in the area I'm currently working with alone. And they have to be placed by hand. One by one. And it isn't done yet.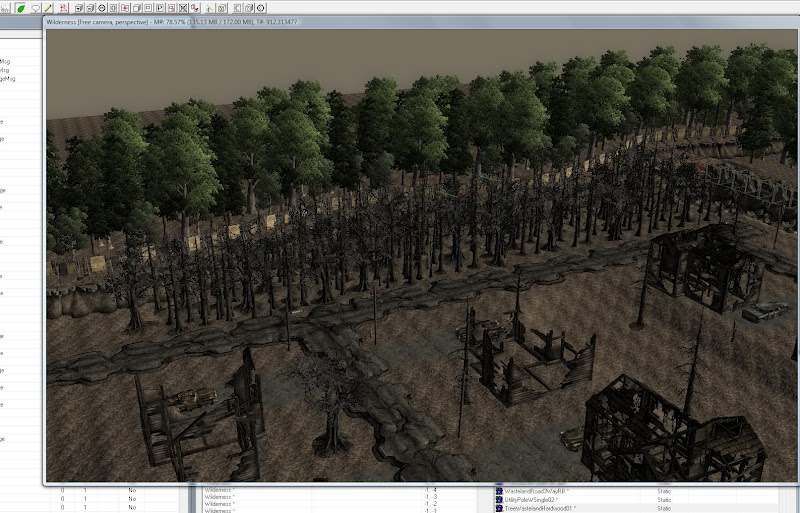 And those green trees in the background don't count towards that number, just the burnt ones. Headache inducing hardly begins to cover it. And just think what it'll be like when I get started on the next location, The Wilds. The place is a bit chunk of a forest preserve that bordered the housing development, as in completely covered by trees.
Oh well, at least I'm getting paid to do this, right? Right?
- Entanglement