After going a long way, which was sometimes a struggle, but most of the times a joy I am proud to announce the birth of the playable demo of The Master's Eye, and it is available for download.

Background
The Master's Eye is a single-player, first person, role-playing game in a fantasy and medieval setting and takes place in the lands of Ishkandragh. Your character (male or female) starts as a young peasant from a small hamlet high in the Smokey Mountains in the northwestern part and sets off on a journey to Ishkan, the capital city of Ishkandragh, to find his uncle. During this trip, he or she will meet nice people, ugly people and many more creatures. The reason for this journey is not immediately clear, but it seems to have something to do with a Magickal device called the Master's Eye, which was created aeons ago by the wizard Ishkan. Ishkan, later known as The Master and founder of Ishkandragh, had used this device when he sent a Daemon Lord back to the hell it came from, and defeated its summoner, Kragh the Necromancer.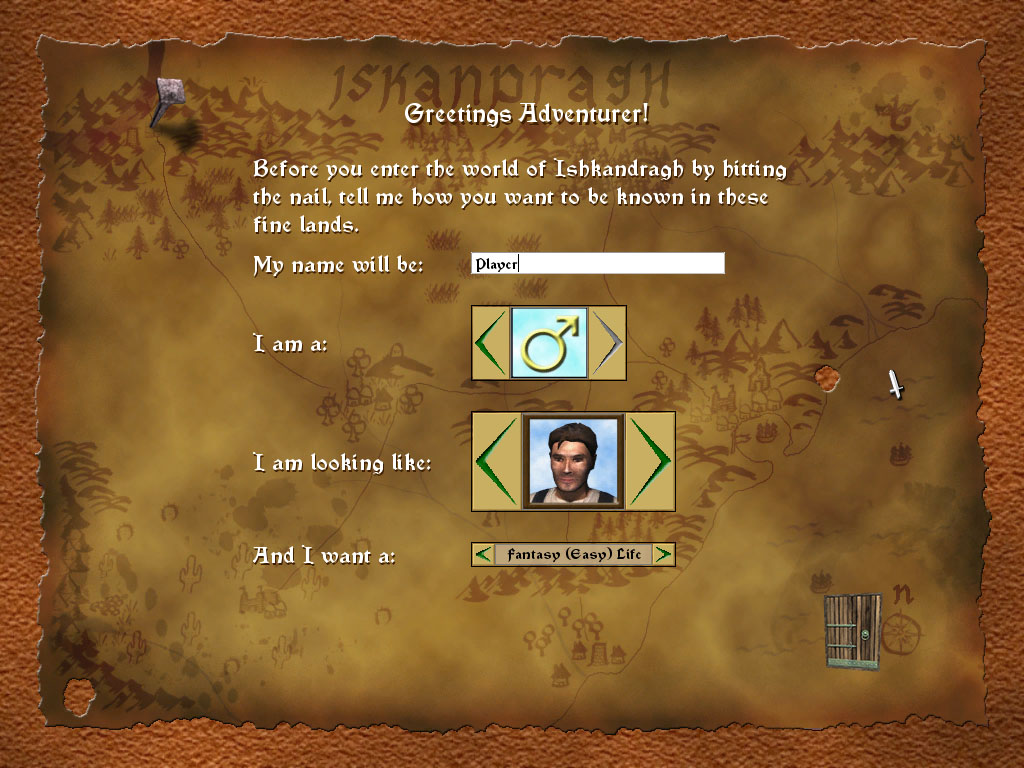 Character and Gametype selection screen.
Features
The Master's Eye is a mission based adventure, but only the first 2 missions are played in that order, after that their order will be as you like/discover/accept with the Ishkan (third) mission as a center where you always return (unless you die completing a mission). These missions are sometimes set in a vast landscape, a dungeon or a city.
Character selection screen. You can be male or female.
Character development, learning new skills and abilities throughout the game.
Missions with side-plots. Completion of a mission will give you information to get to the final.
Completion of side-plots will give extra abilities, skills or special weapons and magic.
Missions (except for the first 2 whixh are mainly the prelude to the main game) can be played in a random order.
Many different kinds of weapons and enemies.
Magick. Learn spells to kill your enemies faster.
Interaction with the characters based on behavior and reputation. For example, haggling with shopkeepers is less successful when having a bad reputation.
Extensive action set including: Talk, Get, Use, Bribe, Picklock and more.
2 Levels of difficulty, the harder one requires the player to eat, drink and rest on regular intervals, amount of air when submerged is limited.
Game can be saved whenever you like, also included are a QuickSave/Load option which are available during gameplay and a per mission AutoSave, which is created when you proceed to the next mission.
3D environment with Torque3D engine.
FMOD sound system.
Comprehensive manual in 3 formats: browser, printable and in-game.
The playable demo
The playable demo of The Master's Eye contains the first 2 missions of the game. All the current game functionality (including all save and load options and the manual) is present in the demo, so you should get a good idea of how the game will look and feel when it is finished.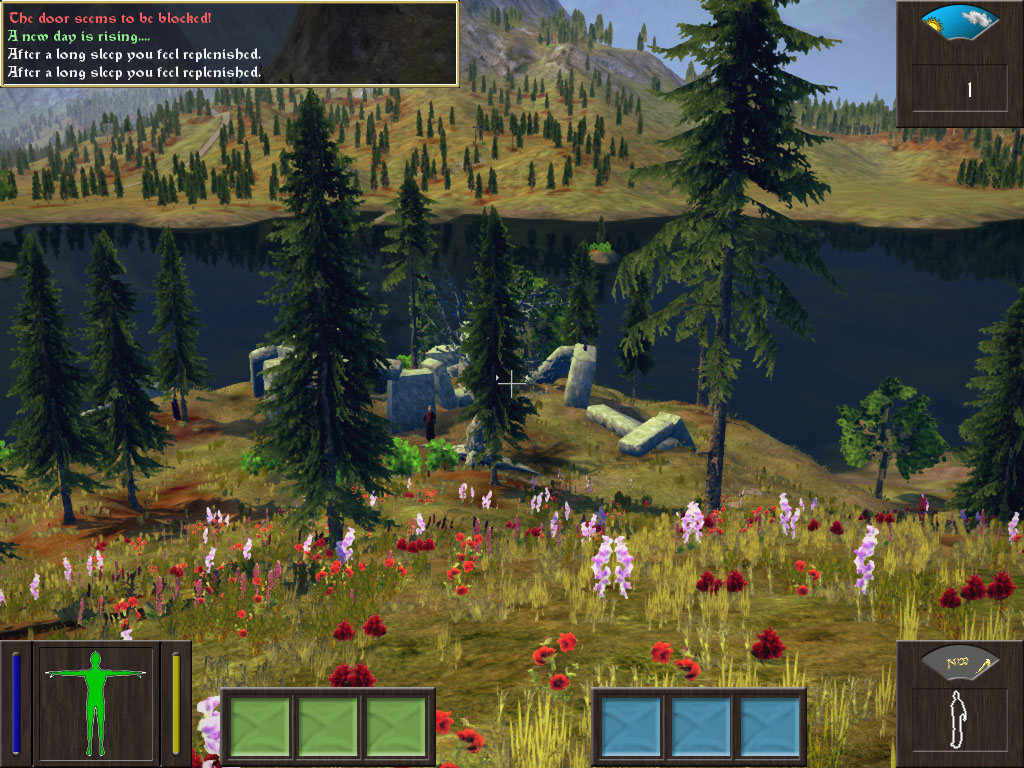 An ancient temple ruin in the first mission.
System Requirements
Windows Vista/7 (32 bit)
Minimum Desktop resolution of 1024x768
Intel Pentium 4 3.2 GHz, AMD Athlon 64 3500+
4 GB RAM
1024 MB graphics card, DirectX 9.0c compatible, Shader Model 3.0
1.5 GB of free hard drive space
Sound card compatible with DirectX 9.0c
Keyboard, Mouse preferred
What is next
First of all I am very curious about the comments I hope to get from people playing the demo. In the mean time I will be developing new missions, I have another 4 more or less finished: the Ishkan (a city) mission which will be very peaceful because here you can study Magick (the Ishkandragh form of magic) practice your fighting skills and most importantly get some new quests, but also a mission with zombies). All those missions will provide you with information to access the final mission. Also I am thinking about releasing a payed beta version with the first 4 or 5 missions. Parallel on this, I am going to launch a funding campaign (indiegogo or kickstarter) which I hope to launch before the end of March, but the sooner the better.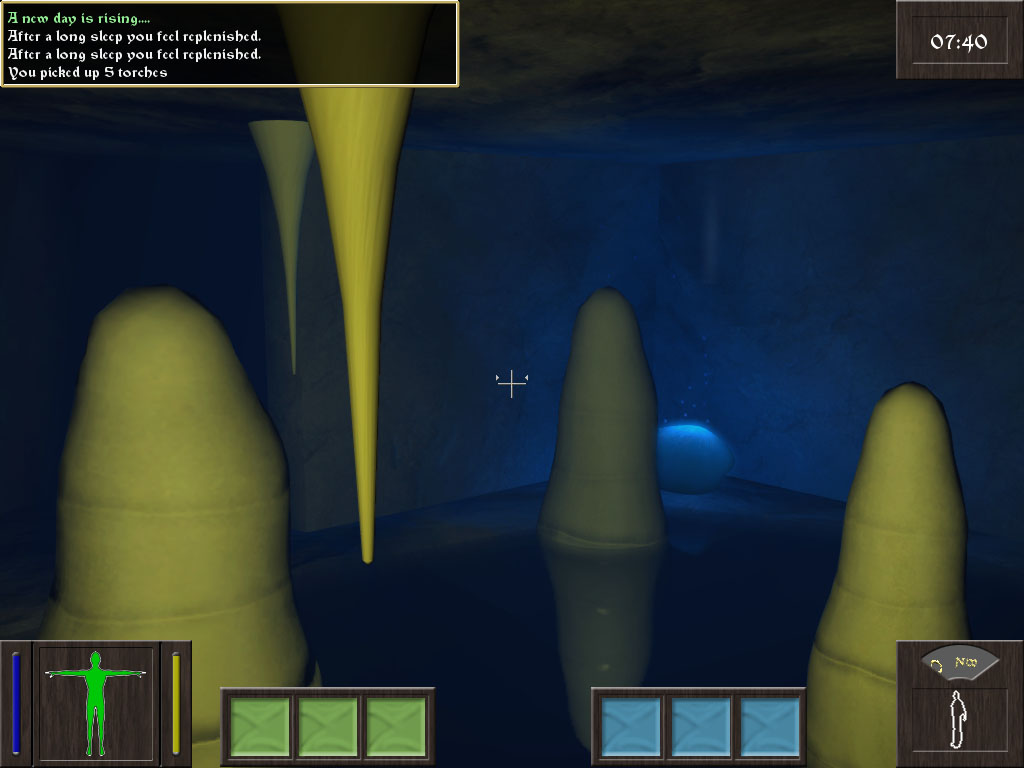 An enchanting cave in a dungeon.
How to get the demo
You can download the demo from my site and go to the Games section (where you also get a description of the game and more screenshots) or you can go directly to the download page.
If you like to stay up to date with the development of this fantastic game, you can follow R.G.S. on Twitter: @RichardsGame
For now I thank you for reading and I hope you will try this demo and give me a little bit of feedback about it.
Richard