This is a small mod which enables all weapons on all Teams. This means: You can buy a M4A1 as a Terrorist or you can buy the Mac10 as a CT and the old Weapons will stay ingame. Now with this Mod, every Team has the same weapons.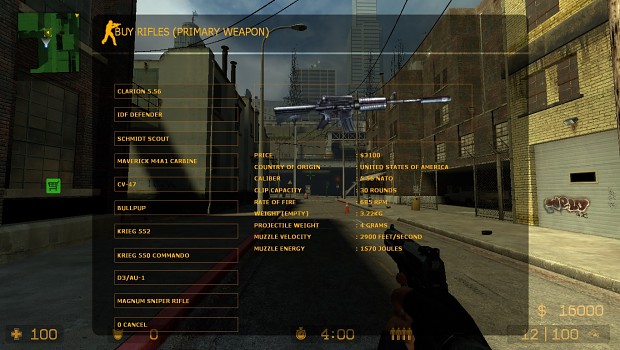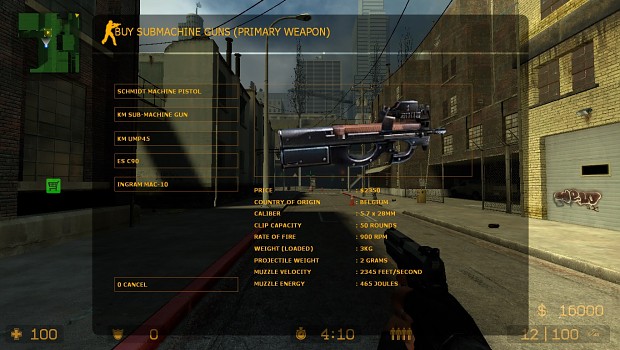 HOW TO INSTALL:
Put the "allweapons" folder into your Steam\SteamApps\common\Counter-Strike Source\cstrike\custom
directory. Start the game.
IMPORTANT: In Multiplayer, this Mod will NOT (!) work. Either you can not join a server and you will get a errormessage like "Bad file server is enforcing file consistency", or you can join a server but you will not see any changes in the buymenu. It depents of the serversettings. But if someone host a Server via the Dedicated Server and runs this mod, it could work and other Players maybe could buy all weapons. Same for a LAN-Match, if someone host a LAN Server or if all Players have installed this mod, then a LAN-Match might be possible, but i am not sure. If you are interest in playing this mod with friends or hosting a server with this, then the best is to figure it out.
NOTE: you will notice in the buymenu the numbers of the weapons duplicate, for example
you open the buy menu and select rifles, you see:
"1. Famas
"1. Galil
"2. Scout
"3. M4
"3. AK47

Etc... it's not important and doesn't affect anything Gameplay related, but if it's annoying to you,
I included a file which removes all the numbers. It's in allweapons/resource folder, the file called "cstrike_english.txt".copy the file and place it into your "counter-strike source/cstrike/resource"
directory and he WILL (!) ask you if you want to replace the file, press yes.
(Game must be in English. Set Steam language to English for making CS:S in English).
BUT MAKE A BACKUP OF THE ORIGINAL CSTRIKE_ENGLISH.TXT BEFORE DOING THAT!!