Unexpected End has a release date: The following 8th of December!
Steam page IS NOW LIVE!! So go add the game to your wishlist for this christmas!
If you get hooked on suspenseful graphic adventure games, then Unexpected End is just for you. You'll find enough puzzles to wrack your brain over. In fact, you'll have to. It's the only way you'll be able to discover your mysterious story ending...count on it.
We've published our first revision of the trailer:
It is not yet as polished as we want, but already gives a good shoot on what will you experience.
Also, we have come up with a Twitter contest...The prize: a game key on Steam to enjoy the game for free ;)

To participate just tweet @freetimefarmers a phrase or a video with an...Unexpected End, obviously! If it's a video off the internet or one created by you, the most important thing to do is add the hashtag #UnexpectedEnd and whoever gets the most retweets wins.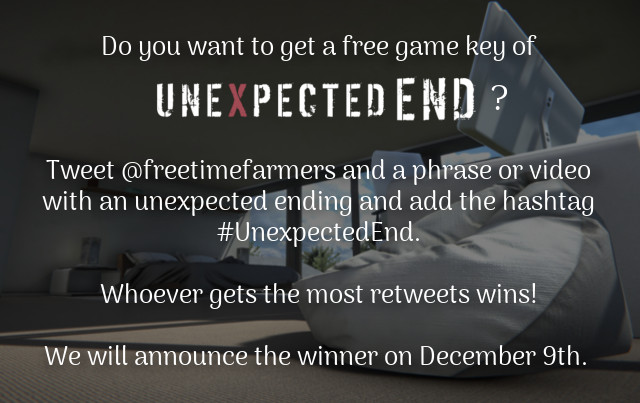 We look forward to your amazing and crazy ideas. We'll announce the winner on December 9th. Don't hesitate to invite friends to participate. The more the merrier!

P.S: If you are a Youtuber/Twitcher/Streamer, we're on Keymailer :p