AD 2560. You got the chance to compete in the toughest AntiGravity racing league of all times. Blood is forced to your head as you enter an inverse loop, magnetic power your only ally while running flat-out upside down. Keep your cool: you'll need it. Redout racetracks are futuristic rollercoasters spanning beautiful, low-poly environments under the low-poly sky of a semi-abandoned Earth.
Now, please get comfortable. Rest your head back and make sure your speakers are on.
"Fans of the genre have been left longing for a next-gen AG racing game for too long" says game designer
Giuseppe Enrico Franchi. "In Redout, you don't just 'drive': you dance around corners, you grind walls, you push yourself. In order to maximize the perception of mass and inertia, all inputs apply a physical force to your ship. Control doesn't come easy. We're shooting for that feeling for which you grip, tilt, and raise your controller."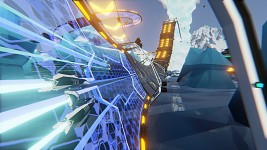 The graphics will be fueled by the technical marvels of the Unreal Engine 4. A sharp, low-poly aesthetic blend in with the latest state-of-the-art shading and lighting effects, creating a beautiful and instantly recognizable mixture. Also, it looks super indie, which nowadays is cool as milk.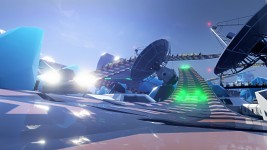 Features
· Career mode. Race against the AI, climb the ranks and upgrade your hovership
· 25+ tracks scattered around 5 locations on a post-apocalyptic Earth, plus boss circuits
· 7 event types, from classic Race to innovative Arena Race and Score-Based Endurance
· 5 upgradable racing hoverships, each requiring a different driving approach
· 10+ racing-focused, upgradable powerups: additional turbo, shields, self-repair drone, advanced grip system, slipstream enhancers, and more
Release Date
Redout is part of the ID@Xbox program and will be available on XBox One in Q3 2015.
Future platforms on the roadmap are PC and PS4, although no date is confirmed yet.
For more informations and the dev log, please visit www.34bigthings.com.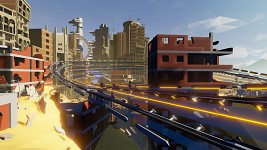 Contact
If you want to get in touch, here's some ways to do it. We'd love to hear what you think!
Facebook: facebook.com/34BTredout
Twitter: @34bigthings
Mail: info@34bigthings.com