After a long hiatus we are officially back on business! This time we will announce the new and unique Faction Protocols and Heroes system of this mod gameplay. Also, the new units that are being worked on.
1. Faction Protocols

One of main feature in Command and Conquer Generals is Generals Powers, where you can purchase special powers that exclusive for each factions. Since Recolonize is C&C Generals Zero Hour modification, this feature will not become a waste. There is some feature that is similar to Generals Powers, the Faction Protocols.
Faction Protocols is a unique feature. Like in Generals, in here you can purchase something like reinforcement, bombardment, and/or support powers from the earned Battle Points. Battle Points earned after you collected an amount of experiences by destroying enemy forces. More you destroy enemy forces, more experience you gained and faster you earned Battle Points to purchase special powers to strengthen your forces.
Not only that. In late game, in Faction Protocols you also can purchase very useful upgrades that almost like a cheat. Well, not really, for example if you are drones you can purchase Mass Productions upgrade that reduce all unit costs by 20%, or if you are humans you are allowed to build Super Supply Depots that can increase your population limit a lot, much more than the standard Supply Depots or even your Command Center each. And, Faction Protocols can also unlock the devastating superweapon buildings.
But, the main difference of Faction Protocols in Recolonize and Generals Promotion in Generals is, Faction Protocols allows you to unlock heroes and also their abilities. This will be explained below.
For your info, Faction Protocols called "Secret Protocols" for Humans and called "System Patches" for Drones.
2. The Heroes
Since in Recolonize you are limited to build units, you must manage your army efficiently. And you cannot just spam a kind of unit to conquer the enemy because each unit kind may be weak or strong against some other unit kinds. This condition can make the game tempo slow, redundant, and boring. Because of that, in Recolonize each factions have their own heroes, the main attraction of this mod.
These heroes can turn the tides of the battle, they have many special abilities, high survivability, and stronger than other normal units so they cannot be defeated easily. The heroes are unlocked by purchasing them in Faction Protocols tab with your earned battle points.
Each faction have more than one hero kind (in the plan there are three or four heroes each faction), and you just can have one of each hero kind at a time (you can't have two or more hero with same kind). If you want to build more than one hero, you need purchasing more battle points in Faction Protocols tab.
Each hero have different effectiveness and their own roles. There may be heroes with lesser healthpoints but greater attack power, or heroes that have a load of healthpoints and armor that can be used for a meat shield, or have many supportive abilities, or that is very effective for killing enemy units but not the buildings, and many other.
Each hero also have different powers and abilities. From the start you build a hero, they come with an ability. They powers can be increased by unlocking more of their abilities in the Faction Protocols. Some of their abilities can be purchased via upgrade research, but most of their ability located on the protocols tab. They power also grow stronger when promoted or leveled-up.
3. New Humans Structure Concept Designs: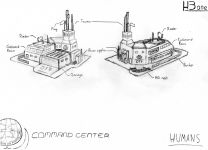 Humans Command Center
Heavily armored Humans main structure. The place you train Engineers that build Humans structures. Deploys secret protocols powers and increase the population stocks. Can be upgraded for radar, and also garrisonable.
"This is the Humans main structure, please take care of it"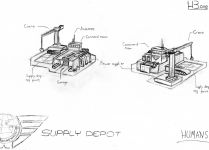 Humans Supply Depot
Increase the population stocks. If you want to build more units, you must build more this structure.
NOTE: This is not a resource gatherer structure!
"Like drones that need powers, we humans need foods and supplies. We cannot survive without them. These are the buildings where we stock them up."
All concept by HeartbreakOne