Normally when you fire an automatic weapon you have to deal all the time with big recoil. To compensate that you can use a bipod to place it in a firm position. I haven't yet done a bipod attachment but what I did is resting the gun. You can just put the gun against a window frame, barrel or any other object at shoulder height. This pretty much eliminates recoil. Take a look at the picture: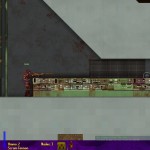 Just place the gun on a horizontal obstacle and the gun "locks". The circle cursor indicates that the gun is resting. This seems pretty cool now, but we'll see how it plays when this version is released. I'm currently wrapping everything up and I hope to have everything ready at the end of the week. I encourage anyone that hasn't payed and downloaded the LD Alpha yet, because this is a one-time opportunity to participate actively in the development of the game (before the beta is finished). Working with a team of fans is much more fun than doing this game alone. So if you have cool ideas, c'mon!
Another feature I added is destructible glass! To save words just take a look at this animated GIF: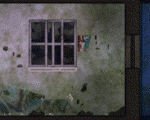 New release will be any day now!