Great news for all the Bladers out there!
Thanks to SNEG Publishing, they have acquired distribution rights to the hidden gem that is Blade of Darkness. Officially scheduled to be released on 7th October on Steam and GOG, it will once again enable long time fans and new players alike to acquire the game.
For context, Blade of Darkness was pulled from the GOG store in 2014, after Codemasters lost the distribution rights to the game. For 7 years, the game was completely unattainable and considered abandonware by some, a legal limbo if you will. The legal quandaries have been resolved at once it seems.
But it doesn't end there. The re-release is not just a repackaged version of the same old game from 2001. Thanks to Fire Falcom, a company which specializes in bringing old games back to life on newer systems, and ex-Rebelact Studios developers, the re-release will include several improvements that make it much more stable on modern systems.
Some of the improvements include:
Native support for ultra-high definition resolutions (4K)
Widescreen, including ultra widescreen, support with no stretching, letterboxing or borders
Adjustable field of view
Steam achievements
Full positional sound support even without a dedicated sound card
The gameplay, however, remains completely untouched. Some might find this unappealing, as the game definitely has some relics of a more unsophisticated time, such as its stiff camera, a slightly odd default controls scheme, lack of strafing and dedicated run buttons, as well as no native controller support.
[EDIT 03/01/2022: Game now has full native controller support]
On the bright side, it's the same game we love with all of its quirks!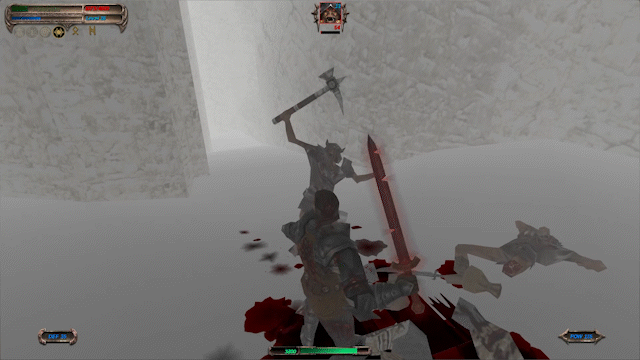 There is also a demo version available, for free of course. It allows you to play the introductory level of any of the 4 characters.
Having dabbled around a bit in the demo, I must say it runs surprisingly well. Some users have reported instability and crashes, but most seem to get the game running without problems, including myself. Additionally, the core game mechanics code seems to be untouched - a lot of the game files seem completely interchangeable between the versions. This is amazing news for modders, as it's quite likely very little changes to their existing mods will be needed to be adapted to this new version. Tomash, a well renowned modder in the BoD community from Russia, has already shown that it's possible to integrate BoDLoader in the demo, thus it's very likely to be easily adaptable to the full release.
What's next in store for BoD? Hopefully, with the increased exposure of the game to the public, we can expect more people joining the modding community to share the great moments this game has brought us and perhaps one day we might even see Fugitive IV from Prospero?