It's been awhile since the last update, but we've been hard at work adding several new features to the game. We recently accepted Feengur (Chad) to the team as a particle effects programmer, and already he has integrated good looking rain and snow effects into the engine.
Additionally, I implemented screen space decals, which allow dynamically adding and changing effects, such as snow accumulation and the illusion of objects getting wet. These decals have normal and specular attenuation factors, which make sure that snow doesn't accumulate on vertical surfaces, and rain doesn't make specular (shiny / metal) objects look wet.
Also, for those of you who haven't seen the recent images added to our gallery, I posted some small updates to mountain textures and lines. The first change to add a procedural texture index map to the mountains, which chooses from and blends between multiple tileable mountain textures. While we wait for tileable textures to be finished, the mountain has plain green, brown, light gray, dark gray and white color textures applied based on this texture map, representing grass, dirt, rock1, rock2 and snow textures respectively.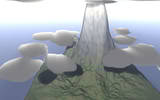 Mountain Textures Overview
Anti-aliasing and some tweaks were also added to the lines. The lines are now soft-lines, meaning that the closer to geometry they are, the lighter they become (unless they were marked as lines). This causes the lines to blend into the geometry, rather than cause clipping artifacts; overall, anti-aliasing helps clean things up, and gives another artistic touch to the game. Below are before and after anti-aliasing screenshots. Anti-aliasing is only added to lines, but since there are lines on all edges, it helps anti-alias the entire scene.
That's all for this update. However, in our next post, we'll reveal some of the details of what to expect in the single player campaigns, specifically with a glimpse into their main characters. For now, we'll just let you look at some preliminary art: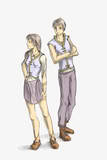 Look forward to future updates!
Lead Programmer and Designer of Aero Empire
- David