Hello, guys, how are you all doing? :)
As the demo has been recently released, I'm gonna start posting material about the 3 remaining colors that will be in the full game. The first one is the VIOLET color
BEHOLD THE VIOLET PULSAR!

The Violet Pulsar is an auxiliary weapon. Upon activation, it leaves a drone behind that will shoot forward. At start your drone is still weak, but as you gain levels, your pulsar slowly become a mean machine of doom, capable of covering half the screen with shots! And did I mention the violet MAGNA ATTACK? At maximum level, you'll gain a weapon capable of covering the ENTIRE SCREEN with bullets. You can say the MAGNA PULSAR is your own private BULLET HELL WEAPON! neat, huh?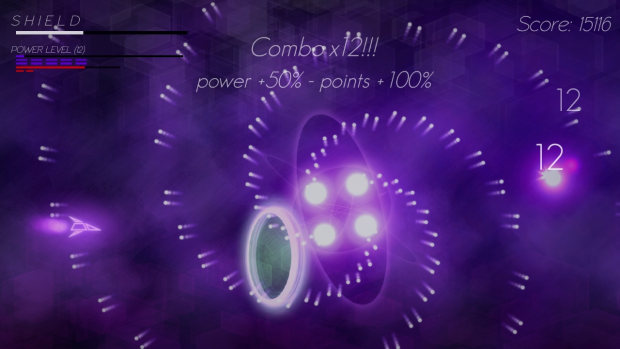 And, for it's passive ability, the Violet color will heighten your PRISMAL ALIGNMENT, enhancing the bonus damage you deal when matching attacks to enemy colors.
All in all, the violet color is a offensive support color, and a very nifty one to have in your arsenal. More pew pew to send those bastion bosses to oblivion! Stay in touch for the next articles about the other 2 colors to be presented, yellow and orange!
---
The Greenlight Campaign is still running!!!

Yes, folks, we're still a ways to go for that nicely nice Greenlight at Steam. So Radiant LUX still needs your votes! If you haven't already, help us get into Steam by voting YES on the link below. That's the best contribution you can possibly give! :D
Oh yeah, and there's the demo too!

I dunno if you heard, but Radiant LUX already have a demo out on itch.io! So, if you didn't try the game yet, head over to Starlightgs.itch.io and download it! Or use that nice widget below