It's tricky to talk about about upcoming quests without revealing too much, but here we go with brief examples of two quests that have been on the table recently. In addition to quest solving fun, these two will also bring in sweet new mechanisms for both the game world and NPCs. The plots are outlined very vaguely here, but you'll get an idea what UnReal World quests will be about.
Quest Example - Conflicting Motives
Meat of this quest borrows a great deal from the finnish folklore, and deals with both mundane and mythological aspects. Introduction of conflicting motives comes along with this quest, and yet again it's quite a bit of work to adjust the game mechanics and quest engine to meet the ambitions.
There's a young man who is eager to arrange a wolf hunt at the area. He says there's a rampaging lone wolf nearby the village and it should be killed when met. But there's also a maiden who has another side to the story. This maiden would like to spare the wolf and not to kill it, for her own reasons. Motives and concerns of these two NPCs are in conflict. The story unfolds even more with a presence of an elderly tribesman who doesn't necessarily have an opinion about who is right or wrong, but knows what to do if there's witchcraft involved. And somebody is convinced there are spells in the mix.
This is a quest that can end in many ways. As a blunt choice player character can either try to kill or spare the wolf. And as it's a wolf we're dealing with it can always lead into player characters own dead. Mythology and beliefs are just as unevident and vague within the quests as they are elsewhere in the game, so a question of who to believe may arise. If player character wants to get involved in this quest it's also a matter of doing something sane and safe - or seemingly foolish and possibly risky. Moreover, even if you would try to spare the wolf it may turn out that you have to kill it for self-defense. And even if you just let the people mind their own business, the events they talk about still exist in the game world - for real.
To hunt the wolf, or not to hunt the wolf... that is the question in one of the upcoming quests: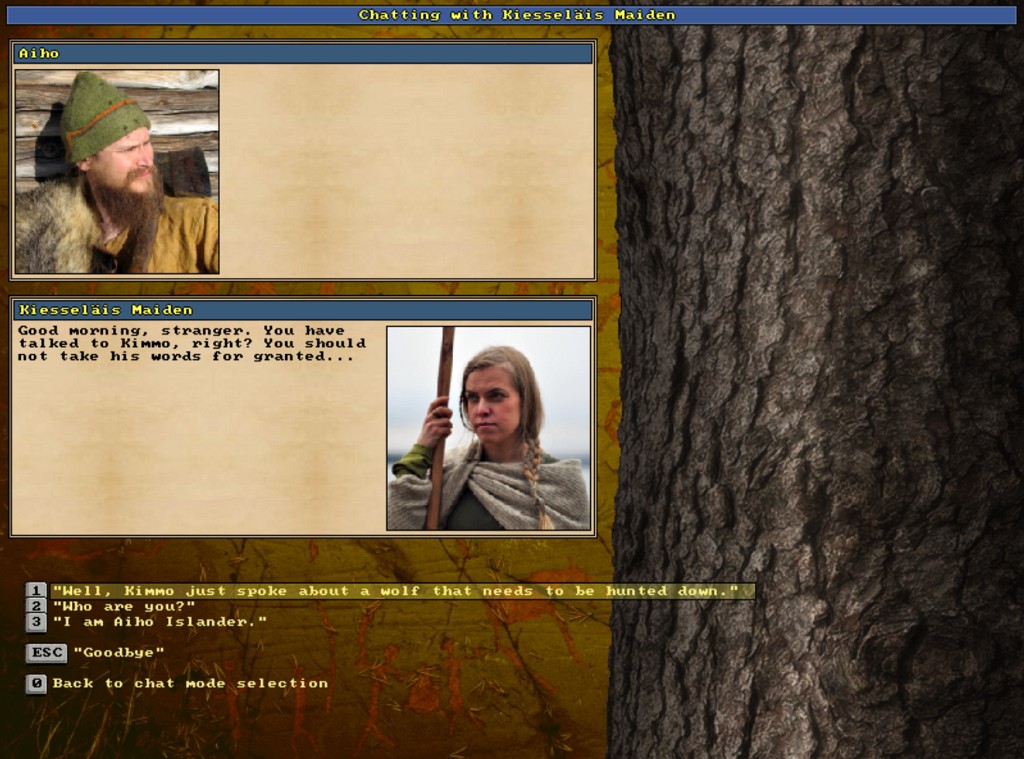 Quest Example - Reveal A Bird Thief, Make A Foe
This one also borrows quite a bit from finnish folklore, and maybe something from the finnish mentality too...
See, there are lots of means and spells to provide oneself a good luck in hunting, fishing and life in general. But it seems that in total the finnish folklore knows far more ways to ruin somebody's good fortune or equipment, to obtain somebody's wealth and luck to yourself, to protect against envious and evil-spirited people, and to revenge to wrongdoers. That's some background to get you in the mood, now to the quest example...
A bird hunting NPC has a problem. Somebody has been stealing birds from his traps. This bird thief also might have used evil spells to ruin the traps, or even the whole bird hunting grounds. The thief is assumed to be somebody in the same village. Somebody who's envious of bird hunter's luck and good catches. If player character gets involved in this quest the means to find the thief are explained. Revealing the thief probably requires visiting at bird hunter's trapping grounds, and to get your imagination going on I just have to say two things that are linked to solving the mystery (at least in some version of this quest): sauna & feathers. If the thief is found we come to yet another interesting, upcoming feature. The quest giver is surely happy, but the thief probably won't be. And if the thief finds out who revealed him you just may have made an NPC foe. See, just like we'll be able to make NPC friends with some quest, now we'll be able to make NPC foes too. Another game world feature this quest brings in is NPC trapping sites in the wilderness. At the moment this feature is tied to quests, but we can extend it in the future for old and new NPC trapping grounds to be found in the world.
Seemingly succesfull bird trapping site of NPC who needs your help...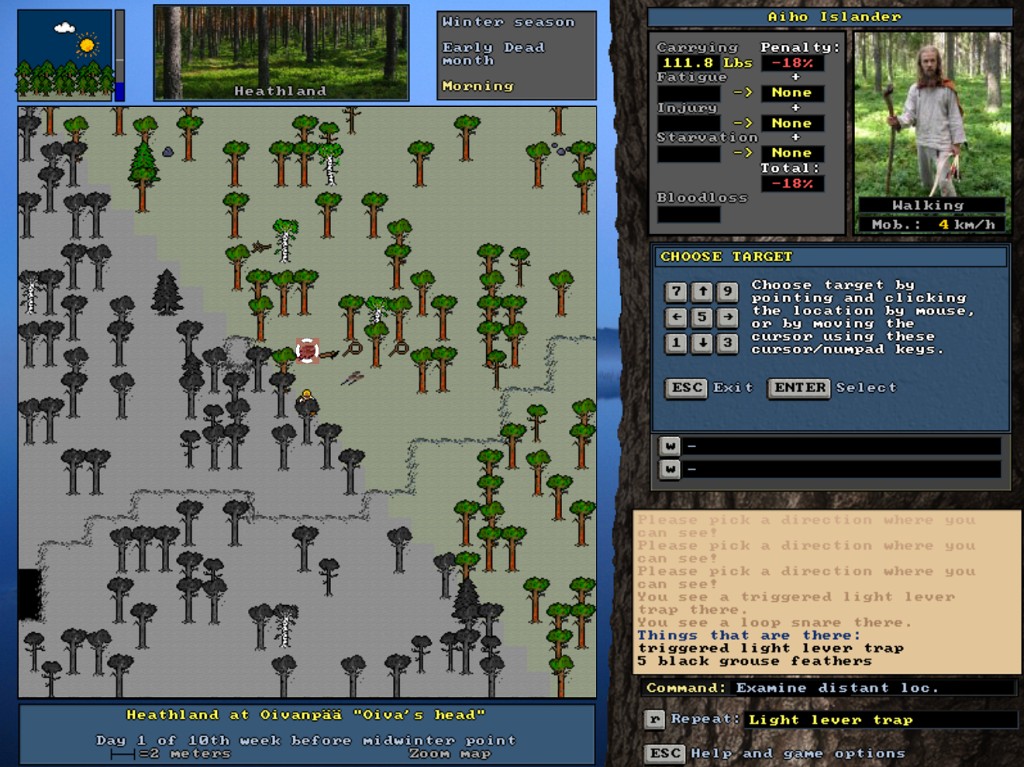 We'll thrive with your support - and with your support only
UnReal World was first released in 1992, and has been continuosly maintained and developed ever since.
Over the past 23 years we've seen dozens and dozens of UrW releases, and there is no end in sight to perfecting and working with next generations of the game. Donations are the way to support UnReal World development, and we do have a fresh 'Donation Dance' video greeting available for those who are able and willing to pitch in.

Sami (creator) and Erkka (co-designer) brainstorming and nightwatching in june 2015: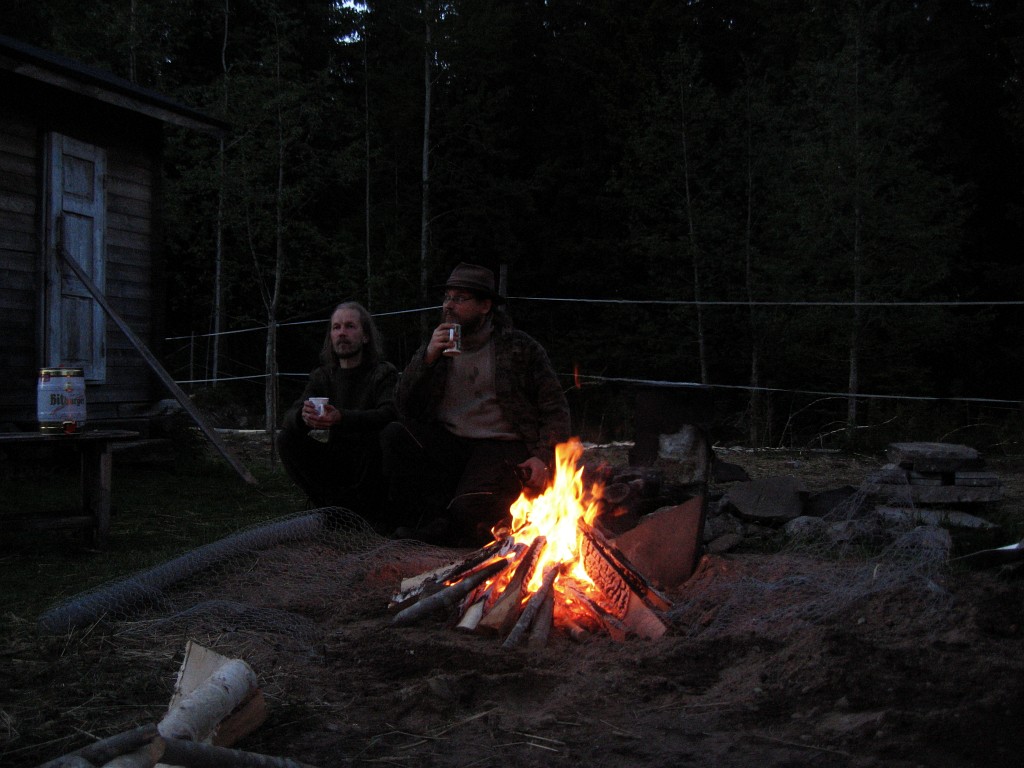 The main focus of UnReal World development is currently in implementing quests and will continue for unforeseeable period of time. We're not taking the easiest path to add them, but use verbose dialogue, procedural generation and randomization to maintain replayability and immersion. Stay tuned for more - and feel welcome to join at Official Unreal World forums for good talks and frequent tidbits about ongoing development.