PvM fans,
It's been a while since I've updated this page with any progress on Pirates vs. Mandalorians. With a busy summer job and a hectic school year, finding time to work on PvM has been difficult.
That being said, I've been working tirelessly on PvM when given the chance, and now I present open beta 0.99 to the community.
Why have there been no other updates? 0.99 is going to be the last version of the open beta. I've spent the last few months combing through the mod, adding and finalizing features I desired in the first true release for PvM. Many of these features include scripting changes, hence why few images have been posted in the past few weeks.
So what's been done?
MDUs are back!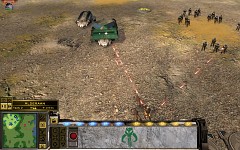 After largely removing them for bug fixing, MDUs are back in the game and ready for use. Particularly for the Pirates and Mandalorians, MDUs have been overhauled to include more useful and interested options. For example, as the image indicates, Mandalorians can now construct a makeshift bunker anywhere on the battlefield with their MDU.
The Mandalorian tech system works!
Getting the technician system to work properly has been a challenge in its own right, partially due to my learning of more of Empire at War's code as I move along with the PvM project. Finally, however, the technician system works as initially intended, with technicians recruitable from any planet in any order. For more information, check out PvM's tutorial, redone for the changes in 0.99.
A bunch of fixes
Of course, PvM couldn't be properly prepared for a full release without mopping up some bugs. A variety of scripting and text errors have been fixed, including one where minor heroes would respawn (forcing a player to fight all Imperial Warlords on the same planet!).
Removals
Approaching a full release, I've looked back to see if everything in PvM was up to par and mattered for the whole of the mod. To ensure that every aspect of PvM works as intended, a few things were removed. For example, perhaps at least temporarily, Rav Bralor has been removed, as her hero unit design was bland and lacked a well-defined role. In PvM Warzone, the Warlords presence on Mustafar has been temporarily removed, as this was part of an attempted Warlord base in the past that never saw realization. I will probably try to re-implement this base properly after 1.0.
To everyone who has provided feedback and encouragement, thank you. All of you have helped Pirates vs. Mandalorians get to where it is today. The first non-beta release of Pirates vs. Mandalorians will soon be upon us!
On behalf of the PvM Team,
Sith of Steel/Mogenar