WIKI
The construction of Proxyndic Wiki is underway. All Proxyndic related lore, tips, and information can be found on the WIKI via the link here: WIKI

Mechanized Characters
Introduction of Mechs. These heavily armored enemies are able to take several hits before being destroyed. It's a good idea to avoid direct confrontation with these characters.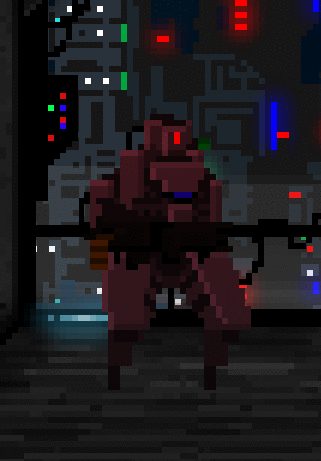 Companies
The following companies have been added to the game. Images and descriptions of each company are available on the WIKI link here: WIKI




In Progress - Near completion
For the month of January, much time has been spent getting 'Area 9 - The Slums' completed. This area will open up the ability to further work on core gameplay mechanics such as territory control and syndicate creation. The Slums will also introduce the Employment system where players will be able to take up an occupation for a regular salary. Currently, the slums background has been fully drawn out and is ready to be placed into the game world. The slums will be accessible by train from Port Vega as well as from any landing pad via Cordicab.
The rest of the time has been spent on preparation for the upcoming Proxyndic trailer. Overall, for the month of February, expect to see Area 9 - The Slums integrated along with a brand new updated trailer showing off all the new details and features.