October has been an extremely busy month! Our focus has been on getting a demo ready and entering a certain indie competition, so our last update was a bit rushed, and we appologize for that and hope this one makes up for it.
Progress has been steady, with some major management decisions. One such decision to make sure that we have updates at least once a month. So from now on every 30th of the month we will have an update for our viewers.
We are also planning to be a bit more open about the development of Project: Warcry; we are still working out the exact details of that but rest assured, by the next update you the community will have a full understanding of what Project: Warcry is all about.
First off we'd like to welcome BradC, lynguistic and Agoaj to the team.
Lynguistic is a new concept artist who works full time for Fatshark. Agoaj is our new general programmer who's currently employed with EA; BradC is also a concept artist and has done some amazing work for the mod community and you can even check out some of the things he's done right here on MODDB.
One thing that seems to be pretty popular with our fans is the awesome concept art we strive to put out. This month I'm proud to display art from three of our best artist:
PoM ARC (Assault Response Crawler) created by Helios: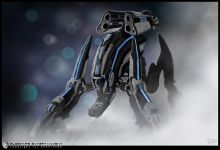 Jucati Mala' kroop (Finished) by Onimetal.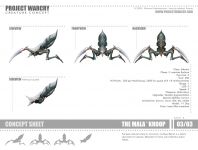 We cant possibly throw 2D at you guys without a serving of 3D as well:
Jucati Mala'Kroop by Nightwolf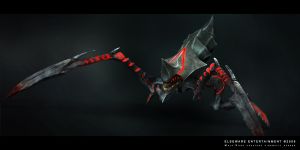 PoM Reactor; Model and design by Ironjoe, texture by Nightwolf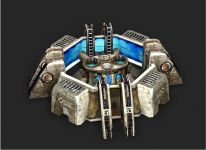 One cool feature that we are going to be using is animated avatars for units in game; a feature made popular in Starcraft but not used in too many games because of the amount of extra art assets required. We're building perfection here, so we spare no expense:
For you music lovers, two new themes!
Impact
Box.net
Epic rock
Box.net
As a bonus, we'd like to present this video stitched together from random game footage that demonstrates the capabilities and some of the features implemented last month. You can see the basics of our way point system, unit commands, path finding, atmospherics, team colors and a bunch of other features. This video is a bit old, but it's a good taste of things to come:
That does it for us this month, hope you guys enjoy the update, and expect another in a few weeks when we make our wiki public!