Hey everyone. Well I thought it was time to bring everyone up to speed on whats been happening with the new updates, that I've been working on for the new maps. October was a big month for the project with alot of my time was spent working on the art side of the maps mainly, but I have done some trigger work and some unit editing and redesigning the tech trees for all 3 races.
Due to the amount of work I have ahead of me, I decided to first focus my attention on redesigning all of the icons to the new style currently in Starcraft 2. This meant making all new icons for every unit/building/ability/upgrade in the maps and as I have 8mb of space per map, everything that needs an icon with have a new look icon made by myself. These new icons will all match up and as everything is in Hi-Def, they look stunning and really define the maps which I really happy with.
Along with the icons, a lot of the console skins and related skins have been reworked and hi-defed, this should provide a more complete and better looking user interface for players to navigate compared to previous map versions.
I also plan to work on all the models in the maps adding in bones and sounds which hopefully will animate the units/buildings alot better, then previously.
Terran's
The Terran's are by far the most developed race. As it is my favorite race from the original game, I naturally spent most of my initial work on the Terran's. A few things have changed for the Terran's, the Vulture unit has been removed along with the Medic. This was done in favor of two reasons. One the Vulture was a weak unit and the spider mine ability was never really affective in combat and so the Firebat has taken its place in the Factory. Medic although was a great unit was replaced by a new unit the Terran Medivac. This was done to help reduce space for the maps and add a Starcraft 2 unit to the maps giving Terran players a new mechanic to use. Also I have now removed the addons for the Factory and the Starport in favor of a all in one Tech lab. So I have converted the Academy to hold all the unit ability researches making this building very valuable and a high priority target for enemy players.
Protoss
After working mostly on the Terran's i shifted to the Protoss race. I haven't done too much so far. But i have plans to bring back the mana shield system to the new maps and hopefully be able to add the High Templar and maybe an Archon unit to this powerful race. But in order for me to add these new units i have to take something out for balance concerns and unfortunately the Reaver is in my sights. The Reaver has just never really worked in the few years Ive had it in the maps and as i can't make it work like it did in Starcraft 1, i believe it needs the flick for good. Also depending on how i go with the reworking of the triggers in the maps i may change the Carriers interceptor attack to the locust ability from wc3 or leave it with the advance trigger system it has had from previous map versions.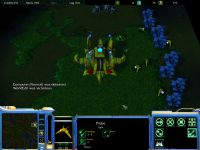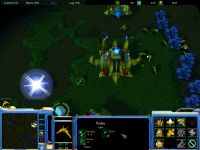 Zerg
So lastly is Zerg which at the moment very little development has been done. I plan to begin work on Zerg after Protoss is further along with its development. But i have done some work with the Overlord unit. To try and recreate the Overseer unit mechanic I've decided to remove Overlords detector ability and require a new ability upgrade call 'Overseer Genes' which once researched will give that Overlord the ability to see cloaked units. This will hopefully create more work for Zerg players to do with regards to detecting cloaked units. This will also allow the other 2 races to be able to attack Zerg bases with more options then was original available to them from Starcraft 1. As for new units for Zerg i havent really looked at anything and as Zerg models and skins are the least available to me i cant confirm anything to the Zerg players just yet.
Unfortunately My spare time to work on the maps has take a massive blow with myself getting a new second job and development has almost come to a complete stop for a few weeks. I'm really sorry i cant speed things up guys but i will work on the maps whenever i have spare time during the week.
Thanks for reading guys and i hope to post something new for you all soon.
night_wolveX
Project Creator