Project Omniomicon was born from a personal project of drawing and creating my own fantasy world. But I wanted also the universe to be "accessible" somehow outside the paper format and Dominions game engine from Illwinter was an evidence. I consider Dominions 4 the best fantasy turn-based strategy game due to the complexity of its mechanics and the vasteness of his universe and lore. And due to awsome modding support from Illwinter, It is also the perfect engine to transpose "paper" ideas into something playable. Thank you again Illwinter!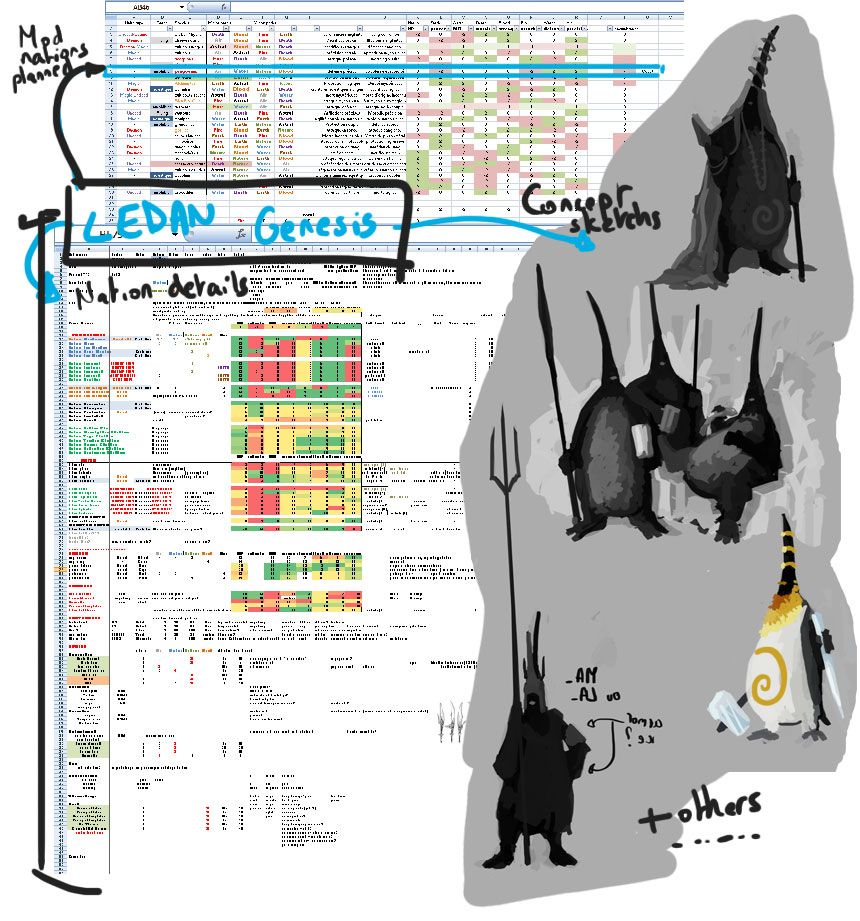 In Omniomicon, every "Nation/Civilization" will be built around 2 Major and 2 minor magic paths.
The association of the Major paths determine the nation general background but also indirectly have an influence on units stats (linked to the Blessing bonus these magic path provide in Dominions4).
For example a nation based on the association of "Water and Air" (Ledan) will field units with higher than "human-average" defense (flexible creatures) and precision values.
Their associated opposite paths of on the two "magic wheels" are then considered "Malus or drawbacks" of the Nation. For example the opposite of Water is Fire and opposite of Air is Earth. The units will then present globally reduced attack skills, fire resistance or/and any other attribute than can be associated to "Fire", and reduced protection , reinvigoration or/and any other attribute than could be associated to "Earth".
Every nation will also have a link with two "Minor paths". These paths are secondary accessible paths to the Nation and are meant to propose more diversity for gameplay and serve lore purpose. These minor path provide also some kind of very small bonus to nations average stats/properties, but nothing comaprable to the Major magic paths. For exemple Ledan secondary minor paths are Nature and Blood. Nature induce a minor health bonus (Ledani are Fat dudes) and Blood a minor Strength bonus (Ledani are strong!).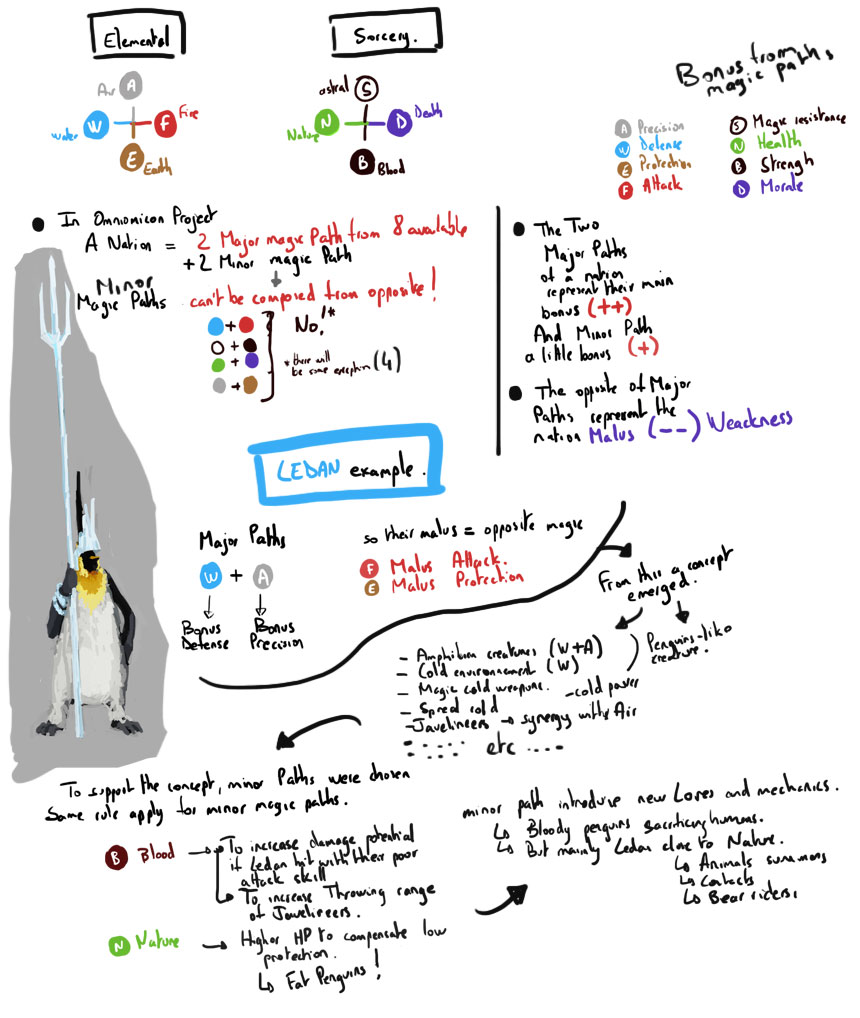 Globally for gameplay purpose all the Nation will be based on this concept and all will take place in the Early Era (EA) of Dominions4. Ultimately, Project Omniomicon will propose nations based on all the possible combination of the 8 Major Paths. This represents a total of 28 Nations.
More than 18 of them are already designed on the paper and 2 of them are already fully playable and available (Ledan and Plavendel).
Another objective for me would be to publish one day some Artbook(s) featuring this Fantasy world (1 Artbook per "Nation/civilization"). But this is a long way to go :p
Thank you for reading, sorry for my poor English and hopefully you'll enjoy playing with my little universe as much as I enjoy creating it.