Good Afternoon Vaygrs, Hiigarans, Kadeshi, Taiidan's, fellow Turanics and Bentusi who deem this important enough to attend.
Right, I'm back in the game and immediately I run into another issue. The asteroids at Gehenna are a mess. they don't work with the shaderprograms and are giving me problems that I can't give a reason for. I know what it does, I just don't know what to do about it yet, short of retexturing them.
This is the best I could do by moving some materials around, but that is not right in anycase.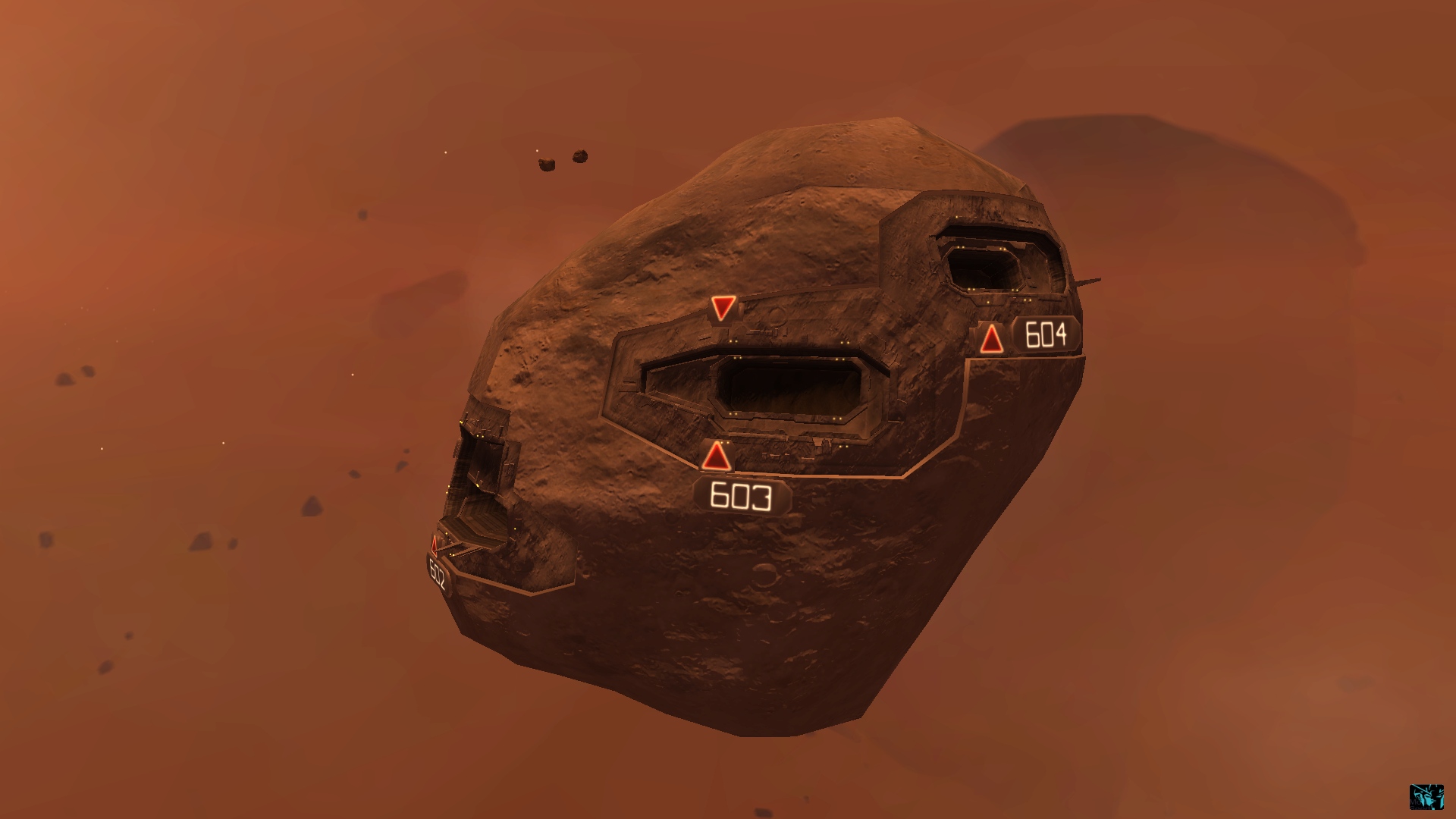 I think I will retexture them after all. To some extent at least.
You may have noticed that I got my hands on fraps and posted some videos. The first one I posted is the intro cutscene where the Pride of Hiigara is launched. The second is where I show you the bug I'm getting. I'm still getting that on both my computers and still no joy in resolving it. Rolling with it.
Some of you have been asking about light effects cast by weapons and explosions, and I will post pictures and a video showing it off. I haven't gotten round to adding effects to things that might need them, the megaliths are my priority right now. Just know that light is cast by various sources onto surrounding ships and surfaces.
I have also been experimenting with some engine trails, adding new effects, making them shorter, brighter engine burns, not sure about which effect I will go with so I'll see what you guys think.
I will be changing them though, the stock ones are simply too boring.
I'm also thinking about changing the glow meshes on the engines of larger vessels to burns, the glows just look ridiculous. This game needs Homeworld 1 atmosphere, not its technology.
I have appointed an adjudicator for my work. If you have an issue with my work, drop a comment at the ship in question, give a GOOD reasoned argument and if she agrees I will adapt it. This is relevant because I will start to run a showroom type of thing in the next week or so, showcasing every ship on its own and there you will be able to praise or hate, or give reasoned arguments if you want it to change. Please post opinions on specific ships at their specific pictures.
If you do have opinions on general things, keep them to the summary page please, or post them with sajuuk at the back so I don't have to read them :p Comments relating to general things on ship picture pages will be deleted if it does not concern the relevant ship. It is just easier to work out what needs to be done that way.
Also, I am not notified when someone posts on a picture, I have to go through them to see messages.
So if I do take a while to respond (if I deem it worthy) it is most likely because I didn't know about the message.
Now I wonder how many will actually have read this, but I guess I will see soon enough. Patience for a little while longer gentlepeoples, I will post pictures and videos as I get the chance.
Have a good one.