Since the last update, I have been working on finishing the Model Viewer - a tool that allows modelers, modders and game testers to load scenes into Aero Empire's rendering engine (download link here: Moddb.com). A lot of work went into debugging the tool / rendering engine to get it to work on ATI graphics cards. I have tested it on a variety of ATI cards, however there are still a few problems to work out. There may also be more incompatibilities that need addressing on other graphics cards that I have not yet tested. If you would like to help in this effort, feel free to download and try the model viewer application and report any problems or bugs you encounter.
There have been several models under production since the last progress update, and with the completion of the Model Viewer, some of our modelers have taken in-game screen captures of their work. All building concept art below is by RedOwl, and all airship and weapon concept art below is by Timmon.
Large Residence by Necro
Model is almost done, and preliminary textures have been added.
Images / Concept Art
Artillery Class Airship by Necro
Preliminary model
Video
Concept Art
Launcher Turret by Mitsiee
Model almost done, requires only optimization.
Image / Concept Art
Farm Model by Asylum
Preliminary model.
Images / Concept Art
The animated windmill above is a test of a design by Timmon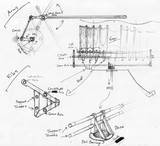 That's it for this update. The Gyro (see last progress update) is currently being tweaked, and Onerom has started work on the female character 1 model. Additionally, Cobalt, our writer, is drafting a complete history of Aero Empire's world, and will be posting an update when it has been refined and edited.

Look forward to future updates.

Lead Programmer and Designer of Aero Empire
- David