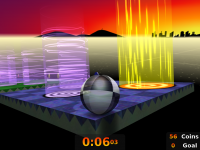 Recently, Neverball contributors came together for their first IRC gathering to discuss current development status and progress towards a 1.6.0 release.
Before we get into details, here are some links to recent development builds for MacOS and Windows that we're welcoming feedback on:
Linux users (or interested people on other platforms) are free to compile source from our SVN repository ( S.snth.net neverball )
The most noticeable features in these builds (which also include Neverputt) are:
Rendering engine overhaul to support OpenGL ES (which will aid us in porting Neverball to mobile platforms and other OpenGL ES compatible devices. This is also responsible for the new look of goals and teleporters)
New default camera responsiveness (which we're hoping will make the game more friendly for newer players)
Chase and lazy cam now work smoothly with manual camera adjustments (left and right mouse buttons)
New UI implementation (allowing for "skinnable" GUI elements)
Interpolation of game states (which apparently "makes people not get seasick")
Rotating objects (examples of these can be seen in Nevermania 9 and Nevermania 18)
Replay speed can be adjusted with the mouse wheel (which is pretty neat)
Some new bonus balls (which aren't currently bonuses - that's just what we call them)
Netradiant friendly Neverball "gamepack" (a set of Neverball specific stuff to make mapping in Netradiant a bit simpler)
We still have a few items left on our collective todo lists, most of which revolve around making Neverball more friendly for mappers:
Updating of the mapping documentation to match new features and to give it a general polish
Migration of mapping documentation to the SVN repository for inclusion in release packaging (distribute the docs with the game)
Implementation of the curve tool as a Netradiant plugin?
Creation of additional tutorials and resources
We don't have a timeframe on the release at this stage, but we'll definitely be making announcements when we have release candidates available.
For anybody who's interested in such things, we now have Neverball themed t-shirts available, details of which can be found here.