I've been doing a lot of game testing on the current build of Prisonscape, and to be honest it feels kind of ... boring. For the longest time I thought this was just bad writing and uninteresting characters, but a while back I was reading Jesse Schell's wonderful "The Art of Game Design: A book of lenses" and particularly about achievement and progression in games. Then I realized it - Prisonscape has no sense of progression.
We recently started a pen and paper RPG sessions via IRC after a long, long pause. It brought back a lot of memories and also made me remember what made the gaming sessions so special (in addition to gathering with your friends and having fun): sense of achievement and progression. It was a great feeling once you finally achieved enough experience for a new level and could browse through all those books to see how your character changes. New powers! More hitpoints! New skills!
I tried to avoid doing the traditional experience/leveling system for Prisonscape before just for being original, but then it hit me: all these great games before use the same system over and over again because it's a pretty good system. Even when the player is stuck with the main story, they can do some side quests and get the sense of progression and achievement.
What I don't like with most experience-based systems is that they are mostly revolving around fighting. Fight monsters, get exp, find more monsters to fight, get more exp, repeat this until you are tough enough to fight bigger monsters. Especially JRPG games are guilty of this and in my opinion it reduces the actual roleplaying element of the game to a minimum.
Planescape: Torment had a nice system where most of the experience came actually from completing quests, but even this can be taken to another level - in Prisonscape you get experience from interacting, socializing, getting information, etc. Every time you learn something new about the place or it's inhabitants, you gain experience. Hear a juicy gossip? Get exp. Get someone to train you in a new skill? Exp. Make a successful skill throw? More exp. Not in big numbers, but doing enough will eventually amount you a level. Of course the main source of experience is completing jobs for other inmates/guards and fights will also give you fair amount of points. So, in short you get exp from:
* Fighting
* Socializing
* Completing jobs
* Gaining new information
So, what can you do with experience? Gaining enough experience grants you a level, and every time you gain a level, you can divide points to the main stats (Strength, Agility & Intelligence). Leveling up also increases your skill levels. See the image below for more detailed explanation.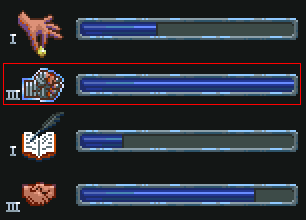 Skills from top to bottom: Pickpocketing, Fighting, Literacy and Haggling. If the player gained a level, his Fighting skill would go up to the next skill level. So, what do you think?