Recently, i haven't gotten much done due mainly to turrets not working. My todo-list at the moment for Version 3 is adding Ships, then balancing weapons and armor, sounds, and some bugs.
As far as sounds, they'll all be vanilla. i'm just wanting for North Korea to have China sounds, United Nations to have USA, African Union to have GLA, and the new faction will have robotic sounds.
i'll probably use a squad format with the infantry in new faction, instead of individual units. As far as the other three factions, i still don't know.
Here's a little of what i've been working on;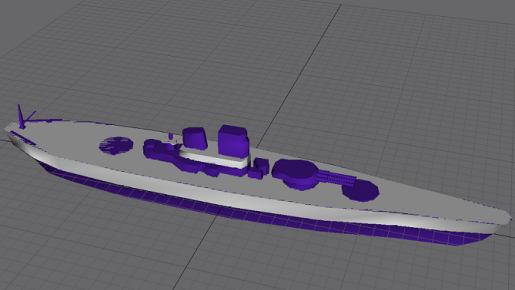 A Yamato in the making.
i can't make more turrets for it until i know how they will be attached in-game, which means this model probably won't get worked on till then. Other things i'm planning on doing to this model is things like a hole under the crane in the back where planes will come from, anchors, chains, and other details.
Other ships i'm planning are destroyers, subs, a flak ship mainly for anti-aircraft, a Kiev type ship, maybe even a landing ship for amphibious assaults.
If anyone has experience with adding more than one portable structure to a unit in Generals, please PM me. This mod is basically on hold until i find a way to add more turrets.