In the past weeks, InfinityAdmin has been focusing his efforts on the server side. A lot of things are going on, especially on the cluster architecture. But one particular area of interest is the procedural galaxy generator.
Our galaxy, the Milky Way, contains an estimated 100 to 400 billion stars. In Infinity you will be able to explore our galaxy and hopefully find Earth. A jumpdrive system will allow a player to select any star and attempt to jump to it. The range doesn't matter. What's important is the mass of the target and the distance to it.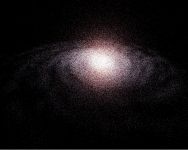 Furthermore we've followed with interest suggestions of players in the galactic map thread, and how the galactic map should look like. After testing the galaxy generator, InfinityAdmin arrived to the conclusion that everybody severely under-estimates the amount of stars there can be in a volume close to you. For example, in a radius of 100 LY, in the spiral arms with an average density, it's not uncommon to find 5000 stars.
Remember that the jump-drive is not limited exclusively by range. Or more exactly, while distance is a factor, there's no "maximal range". This means that it's perfectly possible to try to jump at a red dwarf that is 5000 LY away. The probability to succeed is ridiculously small ( more than winning at the lottery ), but non-zero. Of course, for the galactic map, this means that even stars that are far away should be displayed ( provided that you don't filter them out ). That's an insane number of dots that may appear on your map...One of the more effective filters, I think, will be the jump-probability filter. That one is a given: only display stars with a minimum of 50% jump success.
In the following screenshots, you can see a blue sphere in wireframe. This defines the range in which stars are displayed. It's just an experiment to make people realize how many stars there are at certain ranges: by no means it shows how the galactic map will work
In the coming weeks, InfinityAdmin will probably move the galaxy algorithm to the client and start to add some volumetric/particle effects on the stars/dust to "beautify" it.
We've produced a demonstration video:
For more Information about the galaxy generator please check out the latest dev journal update on our website!