Thanks to feedback from our private beta users (most of which from IndieDB!) we've fixed many small bugs. The game runs pretty smooth and all fixed bugs were pretty minor. It's a very solid private beta so far!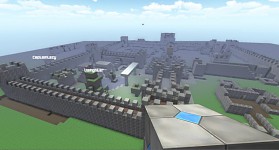 As we don't want to spam IndieDB here's a recap of our latest blogposts:
We've updated the dedicated servers a bit, read more about the dedicated servers here: Cubelands.blogspot.com. Dedicated servers allow for custom map sizes and since they are saved to a .txt file it allows for easier back up options. Now that we've invited the first 100+ beta testers we see a (dedicated) server online constantly!

The basic Facebook app is online, you can find the app at: Apps.facebook.com. Facebook will be just one of our distribution platforms!
Furthermore we've improved quite a few small things and we've completed the payment system for the far future ;). Since we use a 3rd party for the payments many payments methods are accepted and features multiple languages/currencies and so forth. We don't expect any people buying the game any time soon, however, we will be populating our uservoice feedback page with our plans for the future which will give you some hints of the direction we're taking. When finished, you're allowed to use the payment system. Those updates should be worth the 7.50 Euros!
Finally 25 private beta keys for the lucky first readers:
Edit; all keys have been taken