So it begins...
So the mod finally made the public! It's been under development a few months now, where as most of that has gone into the design document, and concept ideas. So now the fun part begins!
The months I used to design the game, and coming up with and writing down concept ideas, was very rewarding since this gives me a full plan schedule that I can follow and refer to. This resulted in a very efficent workflow, were I could focus on the level design and assets only.
What's to come?
I have started flesing out the first part of the level, which is more or less the starting area for the mod itself.
It took some time to be ab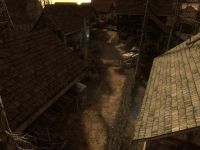 le to start detailing and such, as I had to create a good starting pack of custom assets to give place a personal touch and ofcourse to get the lush look.
So it will take some time each time I feel the need to create more assets aside to creating the maps.
Well thats that!
I hope this mod is of interest, and keep looking for updates! Because they will appear frequently.
Garrador-