Hello Everyone,
"Wonder: The Evil" is a new game using the RPG engine called "Wonder". Both the engine and the game are in early development, but I have the intent of releasing a free playable game as soon as possible.
Even before a complete game will be released, I plan on releasing "alpha" or "pre alpha" builds you can download to join the server. Yes, "Wonder" support multiplayer, but it will also support single player.
So what is Wonder? As I said, it is an RPG engine, a program to create RPG games or adventures. Wonder will have a specific battle system, and specific mechanics. It might not provide as many option as in RPG Maker, but it will have a solid base and tools for inserting user made content.
Wonder will have semi real time turns. It will be much like Rogue, only turns will last for less than a second. The game won't wait for you to make your turn, at least in multiplayer.
In single player there might be a "Rogue Mode" in which the game waits for you to move. The battle system consists of automatic hits to those you stand next to, and you are in war with. There might also be projectiles. There will be magic, I am just not sure yet which features to add or not.
The War and Peace system is interesting, especially between players. Without describing the system in details, I will just say it might make interesting interaction between players where trust and betrayal will play a key part. Though currently this system might be under developed, it needs more testing.
Here is an up to date screen shot as of today: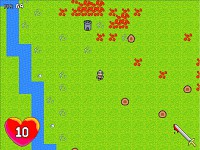 So what is "Wonder: The Evil"?
"Wonder: The Evil" is a very small and short game which use the Wonder engine. It's based on very classic and cliche 8-bit era RPG games. There is a great evil rising and you need to vanquish it.
I am going to release "Alpha" builds of "Wonder: The Evil" so people will be able to join the server and tour the partly made game world.
You can grab the first alpha here.
Remember to change Name = Sargon to your nick name. Don't make it too long and don't use funny chars(if you want to be nice;) ). I am looking forward for feedback, I need your feedback and your participation to help me shape this game. Any comment is welcome.