Pre-Alpha Demo;
Our demo features both of the areas shown below and also a first pass at another of our scenes. These videos below show you what to expect!
Above is our cave scene, in which you must retrieve the sword from a crystal at the end of the passage!
And above here you can see our last video, in which the character must enter the cave via the wooden door near the cemetery!
The Demo;
In this demo you start out in a small village. Your first step need to be picking up the short sword on the ground in front of you. Then follow the road all the way to the cemetery, avoiding/killing the undead along the way. Then you enter the cave. Once inside, follow the cave until you reach the end where two of the undead are waiting for you. Defeat them and claim your sword, which happens to be firmly placed inside the largest crystal cluster there. Back track and exit the cave. Once you exit you'll notice the look of the original scene has changed. It seems less eerie and more hellish. to draw your weapons you'll need to use your mouse wheel. use your new sword to quickly dispatch your foes and head towards the village; Which is now on fire. Once you defeat the undead occupying the town, you've beaten the Pre-Alpha demo!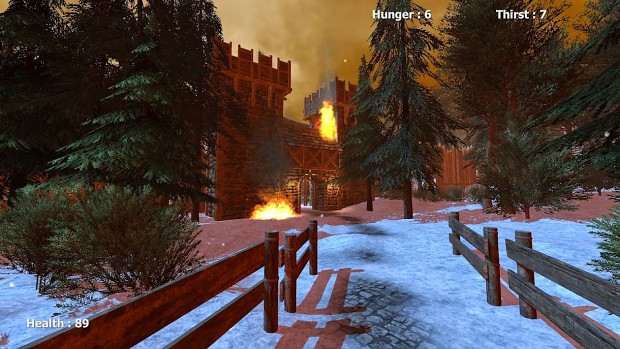 Purpose;
Our purpose for posting this is for players to get an actual feel for our gameplay, and get a general idea of our art and combat. We also would very much like for players to comment on our page with suggestions! After all, the game if for the audience (the players). So tell us what we should/shouldn't do!
What we know needs to be added;
Though this demo can be fairly entertaining, it's not a complete and fleshed out project. Our game still needs a quest system (which is currently being worked on). And also better enemy models and differing variations of said models. At present we plan to release this game as a F2P single player RPG game, but we want to make it as good as possible despite that fact! We're dedicated, efficient, motivated, and down right excited with this games development! Track our game and follow us on Twitter to support us morally!