As it has been announced in the website, the next major release of PCM won't be just another patch, but a new version: The Portuguese Civ Mod III! While it's not released, small devblogs will be posted from time to time, both here on ModDB and on the website, showcasing the new features that PCM III will include.

Some of the new features of PCM III will be:
8 new civilizations
A new gameplay feature for Real World Maps
A new technology tree, using Janworks' Tech Tree patch
A new buildingset for the Iberian civilizations
Some old bugs, including bugs that have been present since the very first release of PCM, but that could not be solved at that time, due to technical limitations, will be finally fixed!
Even though the Real World Maps are surely one of the most remarkable features that The Conquerors expansion introduced, one must admit that there aren't many differences between a Real World Map game and a Random Map game. So, in order to make the gameplay of those maps more distinctive, PCM III will include a new feature for Real World Maps: the Rare Resource system, about which we will talk in this devblog!
If you are a Rise of Nations player, or if you have heard about it, you are surely familiar with the term "Rare Resource", and you'll surely notice that this system is inspired on the one from that game. Although PCM III's Rare Resource system shares some similarities with the one from Rise of Nations, it is quite different. So, it's time to start the actual showcase!
In PCM III, every Real World Map will feature 3 distinct Rare Resource objects. Rare Resources can be captured by players (just like Monuments, in example), and, once captured, they'll grant a trickle of one or two resources. In the screenshot above, the Cotton Rare Resource is shown, that generates trickles of food and wood.
Besides of that, they can also grant a bonus to the player who captured it through the Traders of that particular resource, which become available for training at the Rare Resource when it's captured. We will give more details about those units in the section below!
Traders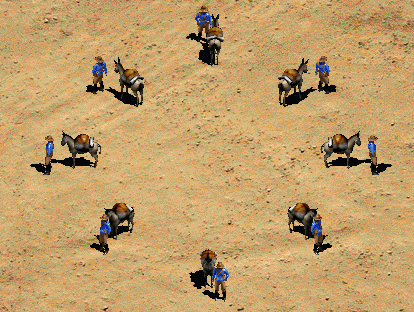 Trader graphics made by Achesun
When trained, Traders enable the bonus of their respective Rare Resource and, if the bonus is already enabled, training additional Traders will boost this bonus. Traders can also trade between markets like other land trading units, while generating more gold than ordinary land trading units.
Besides of that, Traders can also build Trading Posts. Trading Posts essentially work like Markets – they enable Tributes when built, can buy and sell resources and land trading units can trade between a Market and an allied Trading Post (or vice-versa) or between a Trading Post and an allied Trading Post – but they are cheaper, are built faster and can be built right from the Dark Age, if you manage to capture a Rare Resource and train a Trader.
Despite of the fact that the resource trickles that are granted by a Rare Resource are lost if a player loses the control over that Rare Resource, this player will be able to keep the rare resource bonus as long as the Traders of that particular Rare Resource are still alive.
Traders do not take up population capacity, but, on the other hand, the more traders of a particular resource you have, the more expensive they are and the more it takes to train one of them.
And this is it, for now! Stay tuned for the next devblog!