As it has been announced in the website, the next major release of PCM won't be just another patch, but a new version: The Portuguese Civ Mod III! While it's not released, small devblogs will be posted from time to time, both here on ModDB and on the website, showcasing the new features that PCM III will include.

Some of the new features of PCM III will be:
8 new civilizations
A new gameplay feature for Real World Maps
A new technology tree, using Janworks' Tech Tree patch
A new buildingset for the Iberian civilizations
Some old bugs, including bugs that have been present since the very first release of PCM, but that could not be solved at that time, due to technical limitations, will be finally fixed!
Today, we will be showcasing the new Tech Tree of Portuguese Civ Mod III!
One of the most problematic parts of PCM, since the beginning of its development, was its Tech Tree, since it is one of the less modding-friendly areas of AoE2. During the development of both PCM and PCM II, many tech-tree related issues and bugs have been spotted and not all of them were completely solved, due to how limited the native Tech Tree system of AoE2 is.

In order to break those limitations, Janworks, from AoKH, developed a patch that replaces the Tech Tree system that AoE2 uses with a new one, which is modding-friendly, flexible and also open-source, and allows, among many other things, the customization of the amount of ages displayed in Tech Tree and of the units that are displayed for every civ, which is something that would be essential in an ideal Tech Tree for the Portuguese Civ Mod.

You can see a small demonstration of this new Tech Tree in the video below!
As a "bonus" to this showcase, I would like to announce that, in PCM III, the current Caravel graphics will be replaced by new and historically accurate caravel graphics made for PCM by Carcoma, from AoKH!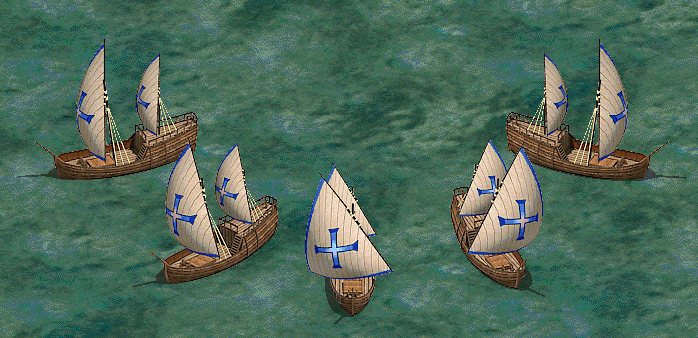 And this is all for now! Stay tuned for the next devblog!